Raw garlic… It's one of those things that you either love or you hate. And, I hate it.
That's one of my biggest complaints with most salad dressing recipes… If you ask me, there's no better way to ruin a dish than to throw in some raw garlic! Even if you use a garlic press to make sure that there are no big chunks of garlic, I can still pick it out if it's raw. Trust me.
For a long time, I bought a lot of prepared salad dressings… They typically don't have any raw garlic in them.  But, I really like to make my own dressings, so I've learned to get around the raw garlic. Instead of using raw garlic in the recipes, I just substitute roasted garlic.  Seems simple, right? It is! I'm really not sure why it took me so long to figure it out!
As much as I hate the flavor of raw garlic, I really do love the flavor of the roasted garlic… It gets kind of sweet and slightly nutty when it is roasted.  Yum!
Even if you don't mind some raw garlic in your dressing, I think you'll want to give the roasted garlic a try… I make it in big batches and store it in the fridge so that I have it on hand whenever I need it.  It works for me, and I hope it will work for you, too!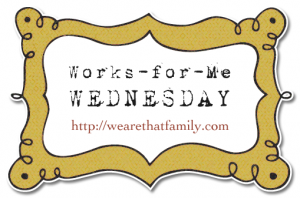 Roasted Garlic
1 large head of garlic (approximately 10 cloves)
Extra virgin olive oil
Kosher salt
Freshly ground black pepper
Preheat the oven to 400°F.
Slice the top off of the head of garlic, cutting down just far enough to expose the tops of the cloves.  Place the garlic cut side up on a piece of aluminum foil.  Drizzle the garlic with the olive oil (a teaspoon or two).  Sprinkle with salt and pepper.
Wrap up the garlic in the foil and roast it in the oven for 35 – 40 minutes, until the cloves are soft.  Cool the garlic until it can be handled. Gently squeeze to pop out the cloves. Use in your favorite recipes or transfer to an airtight container and store in the refrigerator (for about a week or so).