Though I'm ready for spring, the weather hasn't quite caught up with me.  The transition from winter to spring can be a slow one… Especially around here!
Though my tastebuds are ready for the flavors of spring and summer, it's still quite early for fresh, local produce.  So, my transition from winter foods to spring foods is also a slow one.
I recently came across a big bunch of leeks at the farmer's market… Leeks always remind me of spring, so I bought them right away. It also didn't hurt that they were a great deal and much cheaper than the grocery store. Since the weather was still pretty chilly (and still is), I was in the mood for some soup. I decided to make some simple baked potato soup, flavored with the leeks and some bacon. Leeks only get better when they are sauteed in rendered bacon fat… Right?
I baked off some potatoes for my soup, but this recipe would also be a great way to use up some leftover mashed potatoes.  Either way, it's really simple, but delicious.  Both my husband and I loved this velvety soup!
Potato Leek Soup with Bacon
(Serves 4)
6 small russet potatoes, rinsed and scrubbed
(or about 3-4 cups leftover mashed potatoes)
4 slices bacon, cut into small pieces
4 large leeks, chopped and cleaned
1 cup vegetable stock
1 cup milk (I used 2%)
Kosher salt
Freshly ground black pepper
Sour cream (optional)
Begin by pricking the potatoes with a fork and baking at 450°F for about 1 hour. Set aside until the potatoes are cool enough to handle.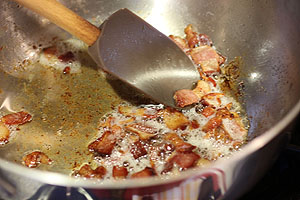 In the meantime, cook the bacon in a large pot over medium heat until crisp.  Use a slotted spoon to remove it from the pot and reserve for garnishishing the soup.  Add the chopped leeks to the pot and saute over medium heat until tender.
Scoop out the potatoes and add the cooked potatoes to the pot.  Gently mash the potatoes with the leeks using the back of a wooden spoon or spatula.  Add the vegetable stock and milk and stir into the potato and leek mixture and bring to a simmer..  Use an immersion blender to puree the soup until smooth.  Season to taste with salt and pepper.
Serve topped with sour cream and the reserved bacon.