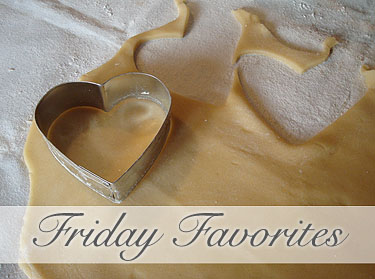 This week has been a crazy one! I'm writing this post early (on Wednesday) since I'm headed to New York City on Thursday and Friday. I've been getting ready for my trip, trying to get some work done, and also doggy sitting for my parents this week.  Needless to say, my house has been a bit like living in a circus… But, a fun circus!
The Posts…
There were lots of great posts that I have come across this week… Though I often tend to share a lot of dessert posts, I've been cutting back on the amount of baking I've been doing in an effort to curb the amount of sugar that my hubby and I eat. We still enjoy treats from time to time, but not as many as before! I think that new mindset has influenced my picks for this week's Friday Favorites, too…
The Playlist…
Have I ever mentioned that I'm a big Beatles fan? It's true.  Naturally, I'm also a pretty big John Lennon fan, as well.
Since I'll be spending time in New York City this week (and I'm probably in New York as you're reading this), I thought it was appropriate that my pick for this week's song to add to the kitchen playlist be New York City by John Lennon.
The Pantry…
As I mentioned above, we've been trying to eat a bit healthier around here lately.  We've been cutting back on sweets and baked goods, and we've also been enjoying our share of salads.  It's a great time of year to get back into eating salads, especially since the farmers markets will soon be full of fresh, local produce to make those salads even more flavorful and exciting!
I've been learning to make salads more interesting (who wants a giant plate of lettuce?), and one of my current favorites is a salad with blue cheese, walnuts, and cranberries. You can't go wrong with some raspberry pomegranate vinaigrette, either.
Here are a few other salad recipes you might enjoy…