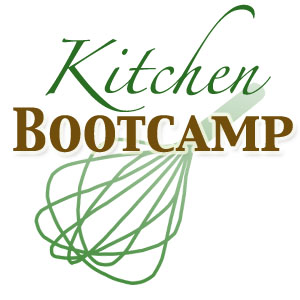 Around this time of year, I always seem to go through a bit of a cooking slump.  I get sick of all of the heavy winter dishes, but I can't seem to come up with anything new and fresh to put on my weekly menu. I tend to just draw a blank, and I end up making the same old things over and over.
One of the best ways that I've found to get out of my cooking slump is to try new flavors and cuisines.  So, for this month's Kitchen Bootcamp challenge, I have decided to do something a bit different.  Instead of focusing on one of the chapters dealing with a particular kitchen technique, I thought we'd focus on the Part 2 of The Professional Chef – World Cuisines.  The World Cuisines section of the book is quite extensive, so I think there will be something for everyone.  The following chapters are included:
Chapter 5 – The Americas
Chapter 6 – Asia
Chapter 7 – Europe
Within each chapter, you'll find an overview of the ingredients and techniques used for preparing traditional dishes. The chapters don't feature recipes, though, so you may want to look at a few other sources for recipe ideas… Of course, if you want to be brave, you can create your own recipes, too.
I did not choose a specific chapter, because I want us all to try something fun and new.  If you're really familiar with Mexican cuisine, try something new from the chapter on Asia.  If you grew up eating a lot of Indian food, maybe you will find French flavors a bit more challenging.  Do whatever works for you!
Since this month's challenge is all about trying new things and new flavors, feel free to be creative.  You don't have to prepare a traditional dish (though, you are more than welcome to, if that's the direction you want to take!)… Simply let yourself be inspired by new flavors and ingredients from another part of the world.
I'll be posting the roundup on Thursday, March 31st, so please be sure to submit your posts by Wednesday, March 30th.  I can't wait to see what everyone comes up with!
Please Note – The link to The Professional Chef provided in this post is an Amazon Affiliate link.