Valentine's Day is less than two weeks away… Are you ready?
My husband and I don't usually go all out with Valentine's Day… It's just not our thing.  There are no diamonds or extravagant gifts (though I wouldn't be entirely opposed to that).  We usually make a point to get each other a card and (when we remember) a small gift. Instead, we usually make a special dinner together (which is rare) and make some chocolate covered strawberries.
So, when I saw that this month's themed Works for Me Wednesday post was supposed to focus on Valentine's Day gift ideas, I decided to share my trick for perfectly drizzled chocolate.  After all, nothing says Valentine's Day like dipping and drizzling with chocolate, right? Whether you are the gift giving type or not, I guarantee that your sweetie will melt for some beautiful homemade chocolate treats.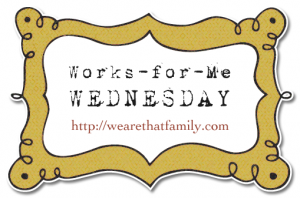 Anyone can dunk strawberries in chocolate, but I think that adding some drizzle really takes your strawberries to the next level… Especially if you do it right.
Put down the plastic bag!
I know you probably have recipes that suggest melting chocolate in a plastic bag, cutting the tip off, and using it as a makeshift piping bag for drizzling.  Don't do it! It's hard to keep the chocolate from squirting out in every direction, and you run the risk of the bag exploding melted chocolate all over your kitchen (that has happened to me more times than I can count!).
Instead, get out your trusty squeeze bottle.  It seems obvious, doesn't it?  Unlike the plastic bag (or even a disposable piping bag), you can set the melted chocolate down and don't have to worry about a chocolate flood on your countertops.  Plus, you have much more control while you drizzle! If you don't have a few squeeze bottles in your kitchen, you can find them at a craft store.
Work Quickly!
When you are drizzling chocolate, you have to work quickly.  If you want nice, thin, clean lines, you can't give the chocolate any time to glop up (technical term). Gently squeeze the bottle as you quickly move your arm (not just your wrist!) back and forth.
Extra Space…
Be sure that you have extra space to work with.  Your drizzle should start off of the item you are drizzling and extend a bit on either side. It's hard to have an even drizzle if you are worried about coloring in the lines… Just let it flow naturally, the extra drizzle will break off after the chocolate sets, and it'll look perfect!
Think Outside the Strawberry!
Chocolate drizzle is great for more than just strawberries!  Think about your sweetie's favorite treats… Cookies, pretzels, nut clusters, graham crackers, and even bacon are all great for dipping and drizzling with chocolate!