For this week's Works for Me Wednesday post, I thought I'd share one of my best secrets for great tasting foods… Herbs and spices!
That may seem a bit obvious, but I'm often surprised by how little some of my friends and family use herbs and spices in their cooking. Even when they do use a dried herb or a spice to flavor their food, they use so little of it that it hardly makes a difference (granted, there are some flavors where a little goes a long way, and I realize that!).
When people prepare under-seasoned food, I don't think it's because they have poor taste or because they can't cook… Instead, I think they are just afraid.  They aren't sure which spices to use and how much to add, so their err on the side of caution. I've been there, and I get that.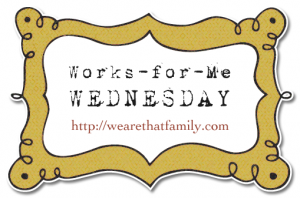 So, today I thought I'd share a few of my favorite herbs and seasonings along with the foods that they pair well with…  The best way to learn to use herbs and spices in your cooking is to just jump right in there and give them a try!
Basil
The flavor of basil reminds me of summer, and I especially love the flavor of dried basil in tomato-based soups and sauces. I usually add about 1/2 – 1 teaspoon to the onions and garlic when I am making pizza sauce and marinara sauce.
Cardamom
Cardamom has a floral flavor that goes well with both sweet and savory flavors.  I particularly like it in sweet dishes paired with chocolate, espresso, cinnamon, or fruits.  This is one of the spices where a little bit goes a long way, so I typically only use 1/4 – 1/2 teaspoon.
Chili Powder
I love Mexican food, so I use chili powder quite a bit.  There are lots of different varieties of chili powder, some spicier than others.  Ancho chili powder tends to have a smokey, yet sweet flavor to it, and doesn't pack a lot of heat.  Chipotle chili powder is also smokey, but tends to be a lot spicier.  You will often find blends that feature a variety of chiles. I use it to flavor sauces for enchiladas, season meat for tacos, and mix it with other flavors for a great spicy dry rub for grilling. Based on your taste and the heat of your chili powder, you can use anywhere from 1/2 teaspoon – 1 tablespoon in a dish.
Cinnamon
Cinnamon is another spice that I love in both sweet and savory dishes.  It pairs well with fruit (everyone loves apples and cinnamon), chocolate (think Mexican hot chocolate), and fall favorites like pumpkin and butternut squash.  I also think it works well in some dry rubs for meat, such as pork and beef.  Most recipes will use about 1 teaspoon of cinnamon.
Cumin
Cumin is another one of my favorites for Mexican cooking.  It has a warm, earthy (and sometimes slightly smokey) flavor that adds depth to dishes.  I often pair it with chili powder in my favorite Mexican dishes using about 1 teaspoon or so.
Dill Weed
Dill is another spice that often reminds me of summer, partly because I grow fresh dill in my garden and partly because a lot of my favorite summer foods contain dill.  I most often use dill in salad dressings, dips, and salads.  It's especially good mixed into egg salad and potato salad.  I usually use about 1/2 teaspoon of dill in a dish, but it also works well as a garnish sprinkled on top of a salad or dressing.
Nutmeg
Nutmeg is great paired with cinnamon in sweet recipes like cookies, pies, and cakes.  I also love to add a bit of nutmeg to white sauces and even mashed potatoes.  Nutmeg is another spice where a little bit goes a long way.  When I'm baking, I will often add 1/4 – 1/2 teaspoon to a batch of cookies or a pie filling. When I use it in a savory sauce, I add just a pinch (or grate just a small amount when I have whole nutmeg on hand).
Smoked Paprika
Smoked paprika is one of my favorite spices.  I especially love to use it in the winter for savory, comforting dishes.  It adds a wonderful smokey flavor to dishes, so I find it especially great in chili.  It also works well in homemade barbeque sauces and dry rubs. I will often add up to a tablespoon of smoked paprika to a big batch of chili.
Thyme
Thyme is another herb that I love in Italian dishes, and I often pair it with basil.  I add about 1/2 teaspoon to my marinara and pizza sauces. I think it also pairs well in creamy and cheesy dishes, so I will often add some thyme to my macaroni and cheese and gratins – typically about 1/2 teaspoon.
Spices Inc. Giveaway!
Spices Inc. sent me a care package of 10 spices chosen specifically for me based on the recipes that I share here on my blog (including many of the spices I mentioned above). They are excellent quality spices (many organic) that add great flavor to my dishes.  I especially love their collection of whole spices, organic spices, and salt free seasonings. In addition to loving their great products, I am also impressed by their dedication to help fight hunger.  They donate 1% of their sales (that's right, sales, not profits) to Feeding America.
You don't have to just take my word for it, though… Spices Inc. has generously agreed to give one of you the chance to try out their spices, as well. They'd love to learn more about your favorite spices, so they are giving you the opportunity to create your own collection of spices from the selection on their website.
One lucky winner will not only receive their customized gift set of spices, but the spice set will be added to their website so that your friends and family can also purchase your customized set of spices!
To enter the giveaway, please leave a comment here including the following information…
Choose any 10 spices, herbs, seasonings, chiles or extracts from the Spices Inc. site.
Select a creative name for your spice set
Provide a sentence or two on why you picked the selection you did… Are they family favorites? Your favorite baking spices? Maybe a great collection for summer grilling?
To enter the giveaway, please be sure to leave a comment by next Friday, February 18th at 10:00pm EST.
Once all of the comments are in, the reader with the most creative blend of spices will be selected as the winner, and will receive their customized gift set.  As I mentioned above, the set will also be added to the Spices Inc. site as a special limited edition spice set!
My Kitchen Addiction Product Review Policy and Disclosure– I received this product (custom spice set from Spices Inc.) at no cost from the manufacturer (or a representative PR firm) for the purpose of testing and reviewing the product. Unless otherwise specified, I do not accept monetary compensation for reviewing or writing about products. I only review products that I have personally tested and used in my kitchen/home, and all opinions expressed are my own.