Even though it's only a few days shorter than other months, February always seems to just fly by.  I can't believe it's already time to talk about this month's Kitchen Bootcamp posts! I'm glad that so many people enjoyed braising and stewing this month… It was a chapter that I often skip over (it often seemed a bit "boring" to me), but I'm glad that we finally gave it a try.  The dishes that were submitted were anything but boring!
I managed to squeeze in two different dishes for this month's challenge.  I made a simple Beef Stew and Tomato Braised Chicken with Kale.
One of the dishes that I had hoped to find the time to make this month was Coq au Vin.  Can you believe I've never made it? Fortunately, someone else did! Check out this lovely Coq au Vin from Shugarman Six!
I am a big fan of Mexican flavors… Especially cilantro and chiles.  So, I am loving this New Mexican Green Chile Stew from eat. live. travel. write. I just can't resist that salsa up on top!
When I think of stewing and braising, I'm reminded of dishes that my mom made when I was growing up.  One of those dishes is pot roast, and this Classic Pot Roast from A Farmgirl's Dabbles looks just the way I remember it.  I can almost smell it simmering away in the kitchen!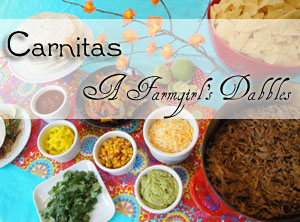 I've mentioned before that my husband and I love to eat at Chipotle Mexican Grill, and I'm always making at home versions of my favorites.  I have to try this recipe for Carnitas with Sauteed Sweet Peppers from A Farmgirl's Dabbles… I'm sure it will be a new favorite!
Some people only drink apple cider in the fall, but I love it all year round. In fact, I have some in my refrigerator right now! I'm excited to try this recipe for Beer Braised Chicken Thighs with Cider and Onions from How to Peel an Onion.
Speaking of flavors that I love, I just adore cooking and baking with port wine. Naturally, I love the flavors in this Port Braised Chicken with Figs and Wilted Spinach from Eat Laugh Love.