I love to make a lot of homemade bread… Especially sourdough bread.  In fact, I rarely buy any bread at the store or at a bakery.
The only problem is that we usually have trouble eating a whole batch of bread before it starts to go stale… And, I'm not a fan of bread from the freezer.  You can tell me that it will taste the same, but I don't believe it. I can taste the difference.
I can't stand to waste the leftover bread, and my waist can't afford for me to make chocolate bread pudding every week (which is what I would probably do with the leftovers if left to my own devices).
It turns out that it's not actually a problem, though… With my overabundance of sourdough bread, I have started making my own homemade breadcrumbs and croutons. They are both super easy and beat the pants off the ones you'll find in the store.  So, I thought I'd share my two "recipes" today!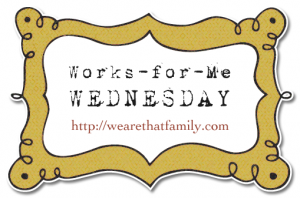 Simple Homemade Breadcrumbs
To make breadcrumbs, you don't really even need a recipe.  They are that easy.  All you need is day (or two or three) old, slightly stale bread… It's OK if it's dry, but don't use moldy bread… That wouldn't be good.
Simply slice the bread and lay the slices out on a baking sheet.  Pop the bread into a 300°F oven for about 15 – 20 minutes, until the bread has toasted up a bit and dried out.  Then, transfer the slices to a food processer and give them a whirl.  You can make the breadcrumbs as fine or as coarse as you like!
You can store breadcrumbs in the freezer… I have even done this.  As long as they are going into a recipe, it doesn't bother me (and I rarely eat breadcrumbs plain, so it works).  If necessary, just pop them in the oven again for a few minutes before using them to give them a bit of an extra toast.
Garlic Herb Croutons
Though they aren't quite as easy as making breadcrumbs, these croutons still rank pretty high on my list of fast and easy recipes.  I don't bother to cut off the crusts of the bread because I like my croutons to have a bit of a rustic look.  They are great on a Caesar salad or floated atop a nice warm bowl of tomato soup!
4 cups day old bread (I prefer sourdough), cut into cubes
4 tablespoons unsalted butter
1 teaspoon garlic powder
1/2 teaspoon dried oregano
1/2 teaspoon dried thyme
1/4 teaspoon Kosher salt
Preheat the oven to 300°F.  Spray a baking sheet lightly with cooking spray and set aside. Place the bread cubes in a large mixing bowl.
Melt the butter in a microwaveable bowl (or measuring cup, which is what I typically use).  Stir in the garlic powder, herbs, and salt. Pour the mixture over the cubed bread, and stir to evenly coat the bread.
Spread the bread cubes out on the prepared baking sheet and bake for about 20 – 25 minutes until golden and crisp.  Cool completely before storing in an airtight container for up to a week.