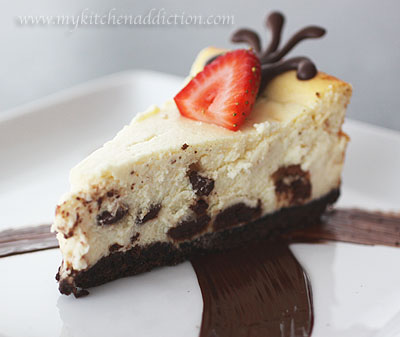 One week and counting until Valentine's Day!
As you may have guessed, my favorite part about Valentine's Day is desserts.  I've mentioned before that my hubby and I don't usually go all out for Valentine's Day gifts. I'm perfectly OK with that. Valentine's Day desserts are a different story… For me, it's just not Valentine's Day without a decadent dessert.  I don't need diamonds, but please don't mess with my chocolate!
So, it should come as no surprise that when I was approached by Sargento to highlight one of their recipes here on my site that I immediately started thinking desserts. They have a great selection of cheeses, and among those cheeses is ricotta cheese.  I bet you can see where this is going… Cheesecake. Chocolate chip cheesecake, to be exact.
One of the things that I love about cheesecake is that it's a blank slate.  I mean, there's a whole restaurant chain dedicated to it with dozens of varieties of toppings and flavors! So, when it comes to making cheesecake for Valentine's Day, you can really make it your own. As I mentioned last week, chocolate covered strawberries are one of my Valentine's Day favorites, so I used those as my cheesecake inspiration. I garnished my cheesecake with fresh strawberries and chocolate decorations.  I had a lot of fun plating up the cheesecake in lots of different ways.
And, of course, I also had fun eating it.
This recipe proves that cheesecake doesn't have to be difficult… It's really quite simple!  Even if you don't do a lot of baking, you can handle this…  Just think how impressed your Valentine will be if you make a cheesecake (from scratch)!
Chocolate Chip Cheesecake
(Makes a 9-inch cheesecake, Used with permission)
For the Crust:
1-1/4 cups fine chocolate wafer crumbs (25 cookies, processed in food processor)
(Jen's Note – One package of chocolate graham crackers works well, too!)
1/4 cup + 2 tablespoons butter, melted
For the Filling:
4 cups (30 oz.) Whole Milk Ricotta Cheese
1 cup sugar
1/2 cup half-and-half or whipping cream
1/4 cup all-purpose flour
1 teaspoon vanilla
1/4 teaspoon salt
3 eggs
1-1/2 cups mini semi-sweet chocolate chips or mint-flavored chocolate chips, divided
Mint sprigs (optional)
Lightly grease bottom and sides of 9-inch springform pan. Combine crust ingredients in small bowl. Press evenly over bottom of
pan. Bake in preheated 350°F oven 10 minutes.
(Jen's Note – To ensure you have an even crust, use a metal measuring cup to press the crumbs down into the bottom of your springform pan!)
Combine Ricotta cheese, sugar, half-and-half, flour, vanilla and salt in medium bowl. Add eggs, one at a time, blend with electric mixer until smooth.  Fold in 1 cup chocolate chips; pour over crust.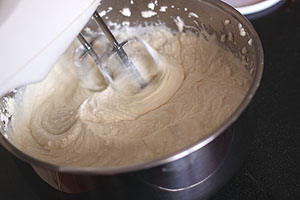 Bake in preheated 350°F oven 1 hour or until set. Cool in oven with door propped open 30 minutes. Refrigerate 4 hours or longer.
Place remaining chocolate chips in small resealable plastic bag, sealing securely. Melt chocolate in microwave oven 2 minutes or in hot water. Cut off one small corner of bag. Drizzle chocolate attractively over chilled cake. Let stand 10 minutes or until chocolate is set. Cut into wedges; garnish with mint sprigs, if desired.
(Jen's Note – I prefer to skip the plastic bag and drizzle chocolate with a squeeze bottle… Here's my tutorial for perfect chocolate drizzle!)
My Kitchen Addiction Disclosure – This post was sponsored by Sargento. Though I have been compensated to write this post, all opinions expressed are my own.