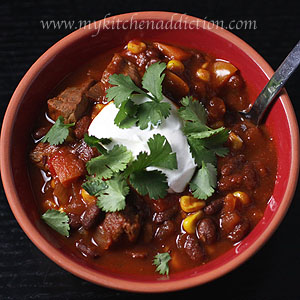 The hubs and I are Ravens fans.  Last Saturday night wasn't really a good night for us Ravens fans.
Though the outcome of the game wasn't what I had hoped for, the night wasn't a total loss.  You see, since we were staying home to watch the game, I decided to whip up a big batch of chili for dinner.  After all, football watching requires some serious stamina and hearty food is a must, and chili fits the bill every time… Especially steak chili.
I was in a southwest mood, so I used those flavors in the chili.  In addition to the steak, the chili is loaded with peppers, beans, and corn.  Plus, I threw in some beer that's been sitting in our garage.  We aren't really beer drinkers in this household, so I try to use the leftover beer when I'm cooking and baking. And, yet again, the chili seemed like the perfect solution to that problem, too!
Though I'm not terribly excited to watch the rest of the playoffs and the Super Bowl (considering either the Steelers or the Jets will be there, which is a lose-lose situation in my book), I am excited to share this great chili recipe.  You can bet that I'll be cheering for either the Bears or the Packers (frankly, I don't care… I just want them to beat the Steelers or the Jets), and I'll be making another batch of this chili.
Believe me, you'll want to add this one to your game day menu. It's great with crusty bread or a handfull of tortilla chips!
Hearty Southwest Steak Chili
(Serves 6-8)
2 tablespoons extra virgin olive oil
2 pounds flank steak, trimmed and cut into cubes
2 teaspoons chili powder
2 teaspoons smoked paprika
1 large sweet onion, diced
2 cups diced bell peppers (approximately two peppers)
2 jalapeños, minced
2 – 15 ounce cans black beans, rinsed and drained
1 cup corn kernels (thawed if frozen)
1 – 15 ounce can tomato sauce
1 – 6 ounce can tomato paste
1 bottle beer (whatever you have on hand)
1 – 2 tablespoons Worcestershire sauce
Kosher salt
Sour cream (optional)
Cilantro (optional)
Begin by heating a dutch oven or large heavy bottomed pot over medium-high heat.  Add the olive oil to the hot pan.  Toss the steak in the chili powder and smoked paprika, and then brown in the hot oil.  Be sure to brown the steak on all sides, then remove from the pot and reserve in a bowl.
Reduce the heat to medium, and add the onion, bell pepper, and jalapeño. Cook in the beef drippings and spices until tender, about 4-5 minutes. Then, add in the black beans and corn.
In a separate bowl, whisk together the tomato sauce and tomato paste until smooth. Add the tomato mixture and beer to the pot. Return the beef to the pot, and bring the chili to a simmer. Simmer for about 20 minutes until slightly thickened.  Season to taste with the Worcestershire sauce and Kosher salt. Keep warm or serve immediately topped with sour cream and cilantro, if desired.