Perhaps this week's Works for Me Wednesday post should actually be called "My husband can make pizza and so can you!"
Since my hand has been all wrapped up since I had surgery last week, my husband has been helping out and filling in for me in the kitchen.  He's good like that!
Last Friday, after my surgery, he decided that he would make pizza for lunch with the leftover homemade dough that I had in the fridge.  Not only did he make pizza, but he baked it on my pizza stone! I did my best to give instructions, and Yellowdog supervised the whole operation (and cleaned up the cheese scraps that fell on the floor!).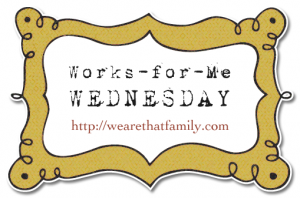 As he was assembling the pizza, I decided to snap a few pictures with the point and shoot camera (since I couldn't manage to hold the DSLR). Originally I just thought I would document the experience, and possibly get a Project 365 photo out of it, but as I was snapping away, I realized that it would actually make a great blog post!
If you ask me, there's no better way to bake a pizza than to bake it on a stone in your oven. It's the next best thing to a wood burning pizza oven. But, trying to get the pizza on and off of the stone can be tricky at times… That is, unless you use parchment paper!
I know that I did not come up with the parchment paper trick on my own, so I can't take full credit for this one… But, I also have no idea where I first heard it. Either way, it's definitely the way to go when making pizza at home.
Simply place a piece of parchment paper on top of your pizza peel and assemble your pizza. Then, transfer the pizza (parchment paper and all) onto your preheated pizza stone (I usually heat the oven to about 475°) and bake until the crust is golden and the cheese is bubbly.  When the pizza is done, simply slide it back onto the pizza peel.  You can slice and serve right off of the parchment paper on the peel! No mess, no fuss… And, most importantly, no burnt pizza stuck to your pizza stone or the bottom of your oven!
And, don't forget… If my hubby can make pizza, so can you!