I had great plans for the giant tub of cashews I purchased just before Christmas. I could use them in cookies, make cashew brittle, or even grind them up to make homemade cashew butter as a gift.  Unfortunately, I did none of the above.  Instead, the giant tub of cashews hung out in my pantry for about a month until I re-discovered it this week.
So, yesterday afternoon while my husband watched football, I decided to finally put the cashews to good use.  I wasn't in a cookie mood (since we still have cookies leftover from my baking spree last weekend), and I knew he and I wouldn't eat a whole batch of cashew brittle on our own.  I was, however, in the mood for some caramel corn.
You really can't go wrong when you combine sweet caramel with salty cashews. The caramel corn with cashews would have been perfectly fine and delicious on its own, but I couldn't leave well enough alone.  I am a big fan of peanut butter, so I decided to throw some peanut butter into the mix, too. It couldn't hurt, right?
The peanut butter and caramel melt together to create a creamy and rich sauce.  When you combine it with the popcorn and cashews, you end up with a crunchy snack that will satisfy your salty sweet cravings.
It's perfect as an afternoon snack, but I think it would make a great gift, too.  Valentine's Day is right around the corner, and you can't go wrong if you make some homemade sweet treats!  Just wrap the caramel corn in a clear cellophane bag and tie it with ribbon and a cute tag. It's a simple gift to make for your sweetheart, friends, or family!
Peanut Butter Caramel Corn with Cashews
(Makes about 10 cups)
1/4 cup canola oil
1/2 cup popcorn kernels
1 1/2 cups salted cashews
1 cup brown sugar, lightly packed
1/2 cup corn syrup
2 tablespoons unsalted butter
1/2 cup smooth peanut butter
1/2 teaspoon baking soda
1/4 teaspoon salt
Preheat the oven to 200°F.  Line a roasting pan or large baking pan with parchment paper and set aside.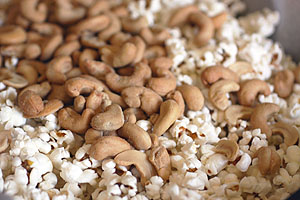 Heat the canola oil in a large, heavy bottomed pot (with a lid) over medium to medium-high heat.  Add 3 kernels of popcorn to the pot and place the lid on the pot.  Once all three kernels have popped, add the remaining popcorn to the pot and replace the lid on the pot.  Wearing oven mits, gently shake and agitate the pot to move the kernels around as they pop.  When you no longer hear any popping, remove the pot from the heat.  Transfer the popped popcorn to the prepared roasting pan. Add the cashews to the popcorn and toss quickly to combine.
In a small saucepan, combine the brown sugar, corn syrup, and butter.  Cook over medium heat, stirring frequently, until the sugar melts. Bring to a boil and cook for an additional 2-3 minutes.
Remove from the heat and stir in the peanut butter, baking soda, and salt. Pour the sauce over the popcorn and cashews. Use a rubber spatula to toss and stir until the popcorn and cashews are evenly coated.
Bake in the preheated oven for about 60 minutes, stirring ever 15 – 20 minutes.  Remove the caramel corn from the oven and continue to stir every 5 minutes for about 20 minutes.  Then, let the popcorn cool completely and break into bite sized pieces before transfering to cellophane bags or an airtight container.