Another month of Kitchen Bootcamp has come to a close. This month's challenge was to make soup… What could be better for the month of January?
Though I haven't posted them all, I've actually made quite a few soups this  month.  We've had some cold and snowy weather (though, not as much snow as I know many of you have had), so there have been many nights where I just craved some soup.
I did have a chance to post two soup recipes here on the site.  Early in the month, I made one of my favorite soups from my childhood – Creamy Carrot and Potato Soup.  Later on in the month, I made hearty, Super Bowl party worthy Southwest Steak Chili and a White Bean and Kale Soup with Roasted Sausages and Tomatoes.
Enough about me… Take a look at the fantastic soups that were submitted for this month's challenge!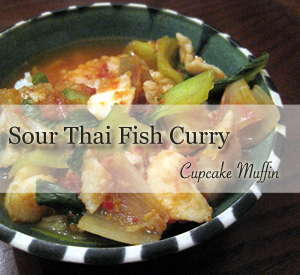 I am always a bit intimidated when it comes to Asian recipes… So, I'm super impressed with this Sour Thai Fish Curry from Cupcake Muffin.  Doesn't it look great?
I love pumpkin… And, I make pumpkin dishes all year long. I think this Broccoli and Pumpkin Soup from Ma Che Sei Mangiato will be going on my menu very soon!
This Sopa Tarasca from eat. live. travel. write. was inspired by Mardi's recent trip to Mexico. With chiles, smoked paprika, and queso fresco, it's definitely a dish you won't want to miss!
I love bean soup, but have a horrible habit of forgetting to soak the beans ahead of time. That's what I love about lentils… No need to soak! Next time I'm craving some lentil soup, I'll be giving this Lentil Soup from Chez Us a try.
Nothing is more comforting on a snowy day than some tomato soup… Except for maybe tomato soup with tortellini!  This Tomato Tortellini Soup from Shugarman Six looks great!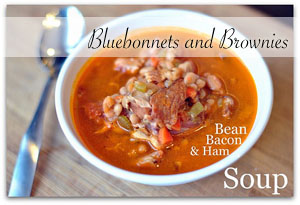 Certain members of my family have been known to complain that bean soups are boring. I won't mention any names (though, I typically cook for two, so you can narrow it down).  This Bean, Bacon, and Ham Soup from Bluebonnets and Brownies is loaded with flavor and is anything but bland and boring!
One of my favorite tricks for simple weeknight dinners is to use my slow cooker.  If you're in need of a budget-friendly meal for your menu this week, be sure to check out this Split Pea Soup from What's Cooking With Kids.
Here's another great Asian soup recipe for you… Check out this Wonton Soup (or Pho) from In Pursuit of Hobby. Yum!
Chicken soup is a great classic… I always find it to be so comforting, but it is one of the few comfort foods that is actually very healthy.  If you're looking for a great chicken soup recipe, I highly recommend that you give this Chicken Soup with Rutabega and Greens from Healthy Green Kitchen a try!