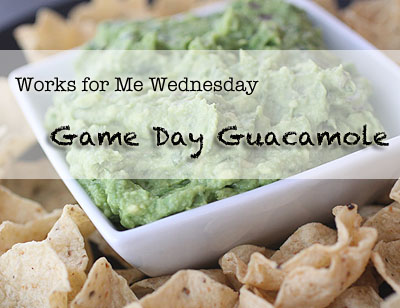 There's a pretty big football game coming up next weekend. The Super Bowl… You may have heard of it?
So, this week I thought I'd share my quick and easy go-to recipe for guacamole.  No game day party is complete without some chips and guac, right?
I've mentioned before that my husband and I are big fans of Chipotle Mexican Grill. We especially love their guacamole, so I've been on a quest to come up with a recipe that rivals theirs. Every time I make guacamole at home, my hubby determines whether it is "Chipotle good" or not… And, I am happy to announce that this recipe has gained his approval.
This recipe is simple… Very simple! I think that's actually what makes it so good. I've had the guacamole at Chipotle more times than I'd like to admit… And, one of the things that I have noticed about it is that it is pretty simple.  It's not loaded with giant chunks of onion, tomato, or jalapeño. Instead, it's mostly avocado with flecks of green cilantro and a hint of lime.  Every once in a while, there's a small bit of red onion, but it's not overwhelming… It's just simple, and I like that!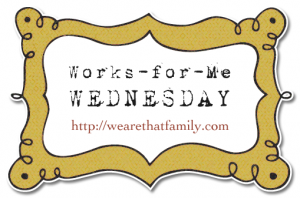 Even if you like your guacamole to be a bit chunkier with lots of veggies and flavors, this recipe is still a great place to start.  Feel free to chop up a few of your favorite veggies (perhaps some fresh tomato or a jalapeño for some kick) and mix them in!
"Chipotle Good" Guacamole
(Serves 8-10)
3 avocados
1 lime, zest and juice
1/2 teaspoon Kosher salt
1/4 cup red onion, minced
Handful fresh cilantro, chopped
Halve the avocados and carefully remove the pit.  Scoop out the flesh into a small mixing bowl.  Add the lime zest, lime juice, and salt.  Then, use a potato masher (or a fork) to mash the avocados until they are mostly smooth.  Stir in the onion and cilantro.
Serve immediately or store in an airtight container with plastic wrap pressed down to the surface of the guacamole to prevent browning.