Two years ago I decided to try something new.
It was a few months after I had quit my full-time job as a database developer and systems analyst.  I was working as a part-time consultant, and spending as much time as I possibly could in my kitchen.  I especially loved baking and never went anywhere empty handed.  Friends and family were always asking for my recipes, so I began to think about "recipe" blog.  I hadn't ever seen one (and didn't even know if they really existed), but I figured it couldn't hurt.
I had blogged before, though it was a long time before.  In high school and college, I had a personal blog on Xanga (we're talking old-school Xanga, people, circa 2000… And don't go looking for it, it's long gone) where I wrote about all sorts of ridiculous things (there may have been a top 10 list of prom dates), so I was familiar with the concept.  I just figured I'd start posting a few recipes here and there… It would keep me from having to copy them by hand onto recipe cards for my friends and family, right?
I mentioned the idea to my hubby and then tweeted about it to my friends (yes, I was on Twitter long before I had a blog).  Everyone seemed to think it was a good idea… Looking back, I think they had a better idea of what I was getting myself into than I really did!  So, I took the leap and started the blog… I came up with the name "My Kitchen Addiction" (after hours of deliberation), bought the domain, and set everything up.
The rest is history… For the past two years, I have been cooking and baking up a storm in my kitchen, always keeping a camera close at hand. I've learned a lot, made lots of great new friends, and even traveled across the country as a result of the little "recipe blog" I decided to start.  It's been a great ride!
As I debated how to celebrate my blog's two year birthday, it seemed only appropriate that I bake a cake.  After all, no proper birthday celebration is without cake!  I dreamed up all kinds of fancy flavors, but I kept coming back to chocolate. This chocolate cake is one of the first I ever baked, and it is still one of my favorites.  It's based on the chocolate cake recipe I found on a Hershey ad in a magazine over 5 years ago. It's simple and easy (only 1 bowl required), and it's always a favorite of my friends and family.
This time, I decided to scale back the recipe a bit… Unfortunately, I can't have all of you over to my house to help me celebrate and eat cake. Instead of a 9-inch layer cake, I decided to go with a 6-inch layer cake instead. It's the perfect size for a small dinner party, or even for a dinner date with a special someone (and Valentines Day is right around the corner!).
When I usually make this cake, I top it with espresso buttercream or peanut butter frosting. This time, I decided to mix it up and went with salted caramel frosting. It's sure to impress!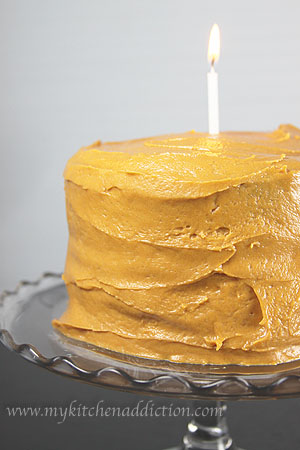 My Favorite (One Bowl) Chocolate Cake
(Makes two 6-inch layers, adapted from Hershey's "Perfectly Chocolate" Chocolate Cake)
1 cup milk
1 tablespoon vinegar
1 cup sugar
1 cup all purpose flour
1/4 cup + 2 tablespoons cocoa powder
1 tablespoon instant espresso
3/4 teaspoon baking powder
3/4 teaspoon baking soda
1/2 teaspoon salt
1 egg
1/4 cup canola oil
1 teaspoon vanilla extract
Preheat the oven to 350°F. Grease and flour two 6-inch cake pans and set aside. Combine the milk and vinegar in a liquid measuring cup and set aside.
Meanwhile, combine the sugar, flour, cocoa powder, instant espresso, baking powder, baking soda, and salt in a large mixing bowl.  Add the egg, oil, vanilla extract, and half of the prepared sour milk. Mix for a minute or two, until all of the dry ingredients are incorporated.  Continue to beat on low speed while gradually adding the rest of the sour milk.  The batter will be runny, but that's just right!
Pour the batter into the prepared cake pans, and bake for 30-35 minutes, until a toothpick inserted in the center of the cake comes out clean. Let the cake layers cool in the pans for 10 minutes.  Then, invert the cakes onto wire racks and cool completely before frosting.
Salted Caramel Frosting
(Makes enough to frost a two layer 6-inch cake)
1 cup sugar
1 tablespoon water
1/4 cup (4 tablespoons, 1/2 stick) unsalted butter
1/2 cup half and half (or cream)
1 teaspoon sea salt
1/2 cup shortening (or softened butter)
3-4 cups powdered sugar
To prepare the caramel, combine the sugar and water in a saucepan.  Heat over medium-high heat, stirring with a wooden spoon as the sugar melts. Stop stirring when the sugar starts to boil. Let the sugar boil until it is amber colored (but not too dark!).  Remove the saucepan from the heat, and add the butter and the half and half.  The caramel will foam up and steam, but that's OK (just keep your face and hands clear and be careful!).  Add the sea salt, and whisk vigorously until the caramel comes together.  Cool to room temperature.
Transfer the caramel to a large mixing bowl.  Add the shortening (or softened butter), and beat on medium speed until light and fluffy.  Gradually add the powdered sugar, beating on medium speed, until the icing reaches a spreadable consistency.