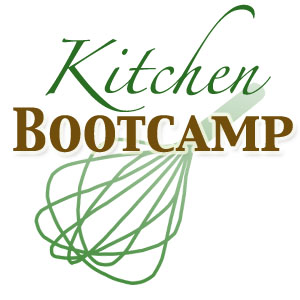 Whether I'm ready or not, 2011 is here.  I haven't really outlined specific goals or made a list of resolutions for the year… However, if I did, I think that continuing to learn new things, particularly in the kitchen, would be pretty high on my list.  Though I enjoy making familiar recipes, it's the new recipes and techniques that I find to be the most fun.
So, I'm feeling a sense of renewal as we head into the January Kitchen Bootcamp challenge. I'm ready to tackle some new recipes, techniques, and flavors… And, I hope you'll join me!
For the January challenge, I have selected a "winter appropriate" theme for the monthly challenge… Soups!  There are few things as warming and as comforting as a steaming bowl of soup on a winter night.  But, I hate to buy the canned soups from the store… Though there are some quality soups made with healthy ingredients to be found, I find that soups can be made at home, from scratch, pretty easily and for a lot less money (perhaps saving money is one of your resolutions?).
As always, I am using The Professional Chef from The Culinary Institute of America† as my main resource for the challenge.  You'll find lots of great recipes and tutorials for soups in Chapter 17.  If you don't have a copy of The Professional Chef, though, I still welcome you to join in the challenge! Feel free to use any resources you have on hand.  The only requirement is that you prepare a soup (preferably not one from a can!).
I will be posting the roundup of everyone's soup recipes on Monday, January 31st. To be sure your recipe is included, please submit it by Sunday, January 30th.  Please check out my Kitchen Bootcamp page for all of the challenge details and links to the archives!
†Disclosure – Please note that the link to The Professional Chef provided on this page is an Amazon affiliate link.