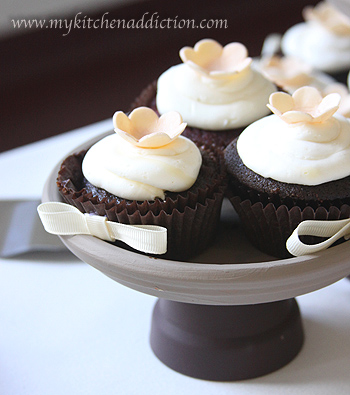 This weekend, my younger brother got married!
Though I've been married for over 5 years, for some reason, knowing that my younger brother was getting married made me feel kind of old.  Fortunately, since I was baking their wedding cake, I didn't really have too much time to dwell on it!
After much deliberation, they settled on a small wedding cake with lots of cupcakes for their guests. Since I love to make cupcakes, I was thrilled… Plus (I have to be honest), it made my job a bit easier!  I've been testing cupcake recipes for months, and the winning flavors were chocolate, vanilla, red velvet, and spice.
Since they got married in December, they chose a winter theme for the wedding, decorating with greens, berries, and lots of candles. The bride's dress was ivory, so we went with ivory for the cake and cupcakes, as well.  I made lots of small ivory gum paste flowers dusted with copper luster dust to decorate the cake and cupcakes.  To match the Willow Tree cake topper, the icing on the cake was intentionally left a bit unfinished.
I searched high and low for the perfect cake stand to display the cake and cupcakes.  I really couldn't find anything that I liked, so we ended up making the stand (and two small cupcake displays) out of terra cotta pots and saucers (inspired by this stand). I also added some ivory ribbons to the chocolatey brown cupcake wrappers that were used for all of the cupcakes.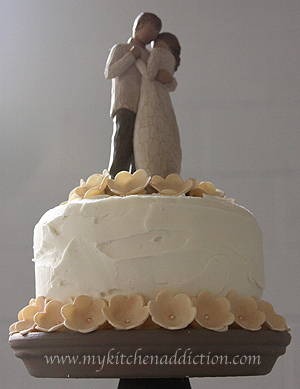 Since it was my first time baking for a wedding, I was a bit nervous. In the end, though, I was pleased with how everything turned out.  You can see more of my pictures over on my Flickr page…
Most importantly, the bride and the groom were thrilled with their wedding cake. They said it tasted great, though, I'm not sure how much of the cake they tasted since most of it was smeared all over their faces!