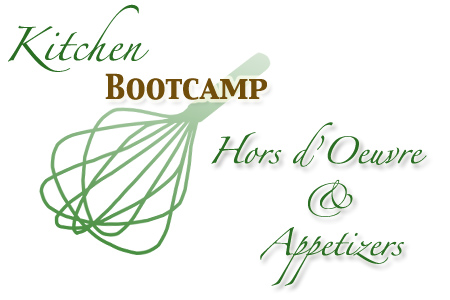 When I announced the November/December Kitchen Bootcamp challenge, I had grandiose plans for all of the lovely appetizers I would make.  The holidays seemed like a wonderful time for me to finally embrace the concept of appetizers and come up with a few of my own.  But, as it often does, life just got in the way.
I love to order appetizers at a restaurant, but when it comes to making them myself, I usually just can't be bothered.  I'm more of a cheese and crackers person.  So, even though it sounded like a lot of fun to develop new appetizers during the holidays, when things got busy, they went right back to the bottom of my priority list.  I would just much rather spend time on a fancy dessert or the main dish than worry about appetizers.
The only appetizer-like recipe that I managed to get around to (in two months!) was my Cocoa Cardamom Espresso Roasted Almonds. And, to be fair, they weren't even really a new challenge for me since I make roasted nuts on a fairly regular basis.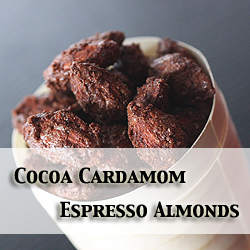 Fortunately, there were many of you out there who embraced this month's challenge and set out to make lots of lovely appetizers! So, let's get right to them, shall we?
You can't go wrong with baked brie, especially around the holidays.  It was on my grandiose list of apps that I never got to.  I especially love this Baked Brie with Cranberries from Joy's Misadventures.  Perfect for a holiday party!
Mardi of eat. live. travel. write. outdid herself this month with two stunning and fabulous appetizers.  If I ever have a big party that requires appetizers, I will have to fly her down here from Canada to prepare them for me! Check out her post to see her Pumpkin Cornbread Cubes and Mushroom Wonton Pizzas.
I'm a big fan of endive… I love the crunchy texture! So, you can imagine that I love this recipe for Endive Leaves with Fig Jam, Blue Cheese, and Candied Walnuts from The Beverly Hills Farmgirl.  If I can locate some endive, this may very well make an appearance at my house on New Year's Eve.
I've got another appetizer over achiever on my hands… Two great appetizer recipes from Kathy of Polwig! I don't know which one I like more, the Crispy Chicken and Goat Cheese Burritos (which I would totally serve with a guacamole dipping sauce) or the Herbed Greek Yogurt Cheese!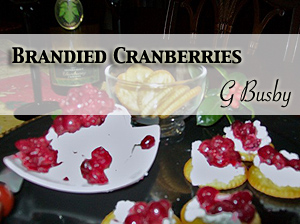 I'm a cranberry fan (and I've been stockpiling them in my freezer for two months).  So, I'm a fan of these Brandied Cranberries from G Busby (on Foodbuzz).  Maybe if I call them something other than an appetizer, I can convince myself to make them!