I enjoy the way everyone comes about the holidays from a different perspective.  We each have our favorite recipes, family get togethers, and other special traditions that make the holidays special.  The one thing that almost everyone can agree on, though, is giving. Whether you choose names for a Secret Santa exchange, spend weeks at the mall shopping for a perfect gift for everyone on your list, or spend the week baking homemade goodies, my guess is that giving is a big part of your holiday celebration.
I have always enjoyed exchanging Christmas gifts. I love searching for the perfect gift for the loved ones on my list, and I do lots of baking to prepare cookies and other homemade gifts for my friends and family.  I enjoy the hustle and the bustle and love the long days working iin my kitchen and assembling and wrapping gifts.  Lately, however, I find that I have less and less enthusiasm about spending a lot of time at the mall.  I feel like many of the people on my list really don't need anything.  It's fun to pick out small gifts that they will enjoy, but I can't get excited about spending money on extravagant gifts just for the sake of saying we spent money.  Can you relate?
Instead, the last few years, my husband and I have really scaled back our Christmas shopping and have tried to focus on smaller, meaningful gifts that our friends and family will enjoy and cherish.  Instead of pouring out my energy shopping at the mall, I've taken more time to put together assortments of homemade jams, jellies, and baked goods that I know everyone will enjoy.
As a result, our holiday spending has been considerably less than in previous years, and we have had the good fortunate to be able to share our blessings with those less fortunate. While we do our best to give throughout the year, we like to do a little bit more at Christmas time.  Many of our relatives have started to do the same, and I am truly thankful for that. I would much rather know that someone less fortunate will get a warm meal on Christmas day than add another sweater to my wardrobe.
So, this year, I would ask you to take a step back and really think about the gifts you give this year. I will be supporting Share Our Strength in their fight to end childhood hunger, and I would encourage you to consider doing the same.  As a food blogger, fighting hunger is close to my heart.  Food is a big part of the holidays in my family, and I honestly can't imagine it any other way.  It breaks my heart when I think of those who can't afford to put food on the table for their families.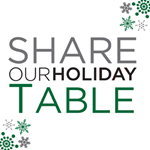 As a part of my holidays this year, I am also participating in Share Our Holiday Table, a virtual progressive dinner party designed to raise awareness about hunger in America and encourage others to help join the No Kid Hungry fight. It seemed like a perfect addition to my 12 Days of Christmas blog post extravaganza!
Today bloggers (myself included) will be sharing side dishes as a part of the dinner party…
To see a list of all of the courses and bloggers who have participated in the progressive dinner party, please visit the Share Our Holiday Table site!  To make a donation and join us in supporting Share Our Strength in their fight against hunger, please visit the No Kid Hungry site.
For my vegetarian side dish, I decided to use one of my favorite winter veggies – Brussels sprouts! I just can't get enough of them. I had a few stalks of Brussels Sprouts from a local farm stand that were just waiting to be used in a fun new recipe. To jazz things up (this is a holiday recipe, after all), I added a few of my favorite flavors – cranberry, pomegranate, walnuts, and gorgonzola!
Cranberry Pomegranate Brussels Sprouts with Gorgonzola
(Serves 4-6)
1 cup cranberry pomegranate juice
(plain pomegranate juice would be fine, as well)
1 tablespoon dijon mustard
1 tablespoon brown sugar, packed
1 tablespoon unsalted butter
1/2 cup walnuts, chopped
1 teaspoon granulated sugar
1/2 teaspoon ground cinnamon
2 tablespoons extra virgin olive oil
12 ounces Brussels sprouts, trimmed and thinly sliced
1/2 cup dried cranberries
2 ounces gorgonzola cheese, crumbled
Bring the cranberry pomegranate juice to a simmer in a small sauce pan over medium heat.  Reduce to approximately 1/2 cup. Whisk in the dijon mustard and brown sugar, and continue to cook over low heat, whisking occasionally, while preparing the rest of the dish.
Heat the tablespoon of butter in a large skillet over medium-low heat.  When the butter has melted, add the chopped walnuts, sugar, and cinnamon.  Stir to evenly coat the walnuts.  Toast the walnuts, stirring contantly, until fragrant – for about 4-5 minutes. Transfer the walnuts to a bowl and set aside.
Turn the heat up to medium, and add the 2 tablespoons of olive oil to the hot skillet.  Add in the Brussels sprouts, and saute until they are tender and caramelized, for about 5-6 minutes. Pour the cranberry pomegranate sauce into the pan and stir in the reserved walnuts and the dried cranberries.  Cook for an additional minute or two to let the dish come together.
Transfer to a serving dish and top with hte crumbled gorgonzola cheese. Serve immediately.