With the holidays coming up, we can all use some fresh new ideas for hostess gifts.  I always like to keep a few small gifts on hand so that I have something when I need it. You never know when you'll get invited to a party or a get together and you need a last minute gift.
I have always enjoyed gift giving… And, I especially love putting gifts together.  I like picking out a basket and filling it with lots of little goodies that I think my friends and family will love. It will probably also come as no surprise to you that I am especially fond of food-themed gifts – especially fair trade and organic food-themed gifts! So, I was really excited to receive a gift basket from Equal Exchange in the mail last week… Excited enough that I wanted to share the details with you.
You may already be familiar with Equal Exchange… They sell high quality fairly traded and organic teas, coffees, chocolates, and other goodies. Not only are their products delicious, but they support small farms and the environment. So, they are goodies that you can feel good about giving as gifts… That works for me!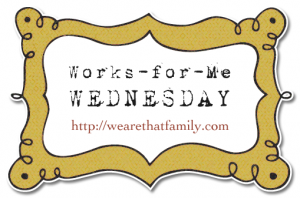 I was lucky enough to receive the Good Morning Basket that contained tea, coffee, and some fabulous ginger snapdragon cookies (that also happened to be vegan!).  I really enjoyed the flavor of the coffee, which tasted a lot like a coffee from Starbucks to me (which I think is a compliment). I am a huge molasses and ginger cookie fan, too, so I couldn't get enough of the cookies.  Really… They were amazing. I'd buy them buy the case!
Not only was the food delicious, fairly traded, and organic, but it came packaged in a fairly traded basket.  Can you believe it?  The beautiful basket that the gifts came in was from Ten Thousand Villages.  Like I said, it's a great gift that you can really feel good about.
Personalize It…
I was thrilled to receive the gift basket just the way it was.  But, if you want to have a really nice personalized gift, here are a few of my ideas to jazz things up and add a few personal touches of your own!
Pick out a fun coffee mug or tea cup to go with baskets that contain coffee or tea.
Add a homemade touch with chocolate dipped stirring spoons or peppermint sticks to stir some extra flavor into beverages.
Make homemade marshmallows to add to gift baskets that contain hot cocoa.
Add some of your own homemade cookies or other baked goods to the basket.
Consider making a small donation to a charitable organization (such as the Heifer Project or Share Our Strength) in your hostess's name and adding a personalized card to the gift basket.
More About Equal Exchange Gifts…
I loved the Good Morning basket, but there are lots of other great gifts available from Equal Exchange this holiday season (I'm also eying up the Choclate and Coffee Pairing Gift).  Interested in learning more about the gifts from Equal Exchange?  Here's some of the official info about the baskets so that you can be an informed shopper (and not just take my word for it!)…
100% Fair Trade selection of gifts. All of the items in our gifts are Fair Trade and even the gift basket itself is Fair Trade.
Filled with delicious coffee, tea, chocolate, cocoa or snacks that are both tasty and good for people and the planet.
Each gift ships in its own gift box with recycled packaging and filler.
Convenient online ordering or order by phone if you prefer: 774-776-7333
Easy ordering system and discounts for those ordering ten or more gifts via the business gifts program.
Custom gift card with your personal message included with each order.
It Gets Better…
You didn't think I'd just tell you about these great gifts and not give you an opportunity to try them for yourself?  Here are three opportunities to help get you on your way to some great hostess gifts for the holiday season…
Win Gift Baskets from Equal Exchange… Equal Exchange is giving away 10 (yes, 10!) of the Good Morning baskets to a lucky winner. Imagine how much shorter your holiday list would be if you had 10 gift baskets to give away to your friends and family! You can enter the giveaway at the Equal Exchange site until November 26th.
Free Shipping… Equal Exchange is also offering the My Kitchen Addiction readers free shipping!  If you'd like to order some gifts of your own, you can use the coupon code freegiftship at the Equal Exchange shop.
Win My Basket… Even though I can't give away the goodies that were in my gift basket (I had to try them in order to know whether or not they were worth telling you about!), I am going to give away the lovely basket that they were shipped in.  I'll even throw in a few homemade goodies of my own to make up for the ones I ate!  To enter my basket giveaway, just leave a comment on this post letting me know what your best ideas for personalizing hostess gifts for the holidays! I will accept giveaway entries until this Friday, November 5th at 10:00pm (Eastern time zone).  US and Canda residents only, please, since I will be shipping the products myself.
My Kitchen Addiction Product Review Policy and Disclosure– I received this product (Good Morning Basket from Equal Exchange) at no cost from the manufacturer (or a representative PR firm) for the purpose of testing and reviewing. Unless specified otherwise, I do not accept monetary compensation for reviewing or writing about products. I only review products that I have personally tested and used in my kitchen/home, and all opinions expressed are my own.