Today's Works for Me Wednesday theme is to share a holiday tip or gift idea… I had so many ideas that it was hard to choose just one.  I don't always remember to participate in the themed editions at the beginning of each month, but I couldn't miss out on sharing a holiday tip!
I love making homemade gifts, decorating, and putting together gift baskets.  I just love it!  So, as you might imagine, I had quite a few ideas for this post…  After much thought and consideration, I decided to share my chocolate filled cookie cutter gift tags.  They are easy to make and a really fun way to jazz up a holiday gift.
A few years ago, my husband and I were doing some holiday shopping at the mall, and we spotted some cookie cutters that had been filled with chocolate and decorated as holiday gifts.  I loved the idea, snapped a quick picture with my phone so I wouldn't forget, and decided that I would have to make some of my own.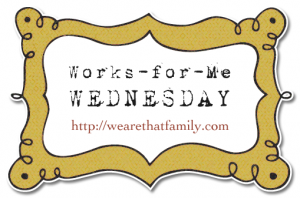 One of my favorite things about these gift tags is that they are pretty versatile.  You can choose any shape of cookie cutter that you like, and fill it with pretty much anything you like.  If you have a good recipe for fudge or peppermint bark, those would be fabulous fillings for the cookie cutters. Let your imagination run wild!
What You'll Need…
You can pretty much use whatever you like to make these gift tags, but here are a few of the basics:
Cookie Cutters – Any cookie cutters you like will do.  I usualy opt for the painted metal ones that you can find on the holiday displays at craft stores this time of year.  They're usually less than $1.00 each, which is also a good thing!
Squeeze Bottles – I find that it's easiest to "pipe" the melted chocolate from a squeeze bottle.  I've attempted to use pastry bags, but it always ends up being really messy.  You can also find squeeze bottles at a craft store.
Chocolate – You can use whatever chocolate you have on hand – white, dark, milk chocolate, whatever! For the different colors, I will often pick up some of the vanilla flavored candy melts.  Again, you can find those at a craft store (are you catching on to the theme here?).
Decorations – Decorations are optional, but they add a nice touch. You can use candies, nuts, sprinkles, or whatever else you like.
Clear Plastic Bags and Curling Ribbon– Any guesses where you can buy clear cellophane bags and curling ribbon? Yup, that's right! Head out to your local craft store.
Instructions…
Line a baking sheet with waxed paper.  Place the cookie cutters on the waxed paper.
Melt the chocolate in the microwave. You could take the time to temper the chocolate, but I don't usually bother. Just stick to 15 second intervals and you should be OK.
Transfer the chocolate to the squeeze bottle (carefully!). Some bottles give instruction for melting chocolates in the plastic bottle.  I don't like to microwave plastic, so I usually avoid that and just use a separate glass bowl.
Use the squeeze bottles to pipe the chocolate into the cookie cutters.  You can get creative here…  Just wait for each layer of chocolate to cool and set before you add an additional color.
Before the chocolate cools, add any candy, nuts, or other decorations.
Allow the chocolate to cool and harden before removing the cookie cutters from the baking sheet.
Wrap each cookie cutter in a clear plastic bag and tie with some curling ribbon.