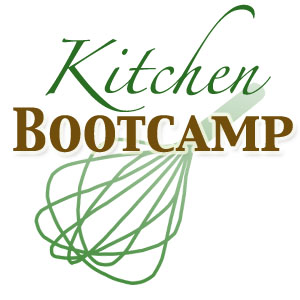 This time of the year, I can never seem to really focus on anything but the pending holidays.  I absolutely love the whole "holiday season" from well before Thanksgiving until after New Years. I love cooking, baking, and entertaining… And, no other time of the year can compare!  I imagine that most of you can relate.
So, with all of my holiday excitement (in addition to all of the other excitement and craziness in my life right now), I wasn't nearly as diligent as I should have been about announcing a November Kitchen Bootcamp challenge.  The more I thought about it, though, I realized that many of you are probably equally distracted at the moment and might not have the energy to do both a November and a December challenge.  That's a lot to add to the holiday season!
To keep things simple, I've decided to combine the November and December challenges into one single holiday challenge.  And, I've chosen Hors d'Oeuvre and Appetizers (Chapter 32 from The Professional Chef†) as the topic! Since some holiday entertaining is inevitable (especially for us food bloggers who can never go anywhere empty handed, if not actually hosting the party!), it seemed only appropriate that we would tackle some party food.
Personally, I can't wait to see what everyone comes up with.  Appetizers are one of those things that I typically overlook entirely. (Unless I'm hosting a party… and even then mine aren't too exciting!) Though I love to order appetizers when we go out to eat, I'm more of a main dish, sides, salad, and dessert person when I'm the one cooking.  This challenge will definitely get me out of my comfort zone a bit… But, that's really what it's all about!
So, here are the details… Since this is a special holiday challenge, I'll be posting the roundup on Wednesday, December 29th (just in time for the last minute New Years party planners!).  Please submit your blog posts by Tuesday, December 28th to be sure they are included in the roundup.
†Disclosure – Please note that the link to The Professional Chef provided on this page is an Amazon affiliate link.