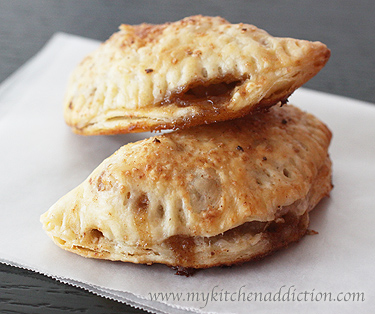 With the holidays coming up (and since this month's Kitchen Bootcamp theme is pastry doughs and batters), I thought I'd address a bit of a touchy subject for this week's Works for Me Wednesday post… Pie Dough.
I know that a lot of people are intimidated by pie crusts, though… I used to be, too. But, I'm here to tell you that it doesn't have to be difficult… Really! Once you know a simple formula, you'll be whipping up your own homemade pie crusts in no time at all. In fact, I happen to think that it's easier than running to the store to buy a pre-made crust!
It wasn't until I bought a copy of Ratio by Michael Ruhlman that I really became comfortable with making pie crusts.  I was always so baffled and confused because every recipe I would look at would be a bit different and I never knew which one to choose.  After discovering the basic ratio for pie crusts, though, I decided to give it a try… And, I've never turned back. It turns out well every time and is pretty versatile.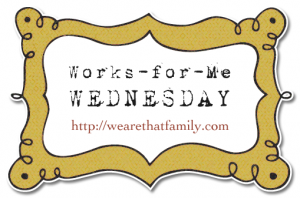 Basically, you just need to know that pie dough is "as easy as 3-2-1″… You will need 3 parts flour (plus a pinch of salt), 2 parts butter, and 1 part ice water.  The ingredients are measured by weight and added in the order of the formula.  Simple, right?
It's a ratio that's so simple that can remember it and whip up a pie crust from memory each time.  Just in case, though, I've added a quick cheat sheet so that you will have no trouble making your own pie crusts!
As long as you follow the ratio, you can make as much, or as little, pie dough as you want.  But, let's talk about the two most common amounts – a single pie crust, and a double pie crust.
| | |
| --- | --- |
| Single Pie Crust | Double Pie Crust |
| 6 ounces flour | 12 ounces flour |
| 4 ounces (1 stick) unsalted butter | 8 ounces (2 sticks) unsalted butter |
| 2 ounces ice water | 4 ounces ice water |
Now that we've tackled the ingredients, let's talk about the method…
Whisk together the flour and salt to remove any lumps.

Make sure the butter is cold and cut into chunks and add to the flour.

Use a pastry blender to cut the butter into the flour, leaving some pea sized chunks of butter (this is what makes the crust flakey).

Add the ice water 1 tablespoon at a time and toss with a fork.  Add just enough water that the pie dough comes together (though it might be a bit crumbly… that's OK).

Shape the dough into a disc (2 discs for a double crust), wrap with plastic wrap and refrigerate for 30 minutes.

Roll the dough out on a floured surface to about 1/4 inch thickness and use in your favorite pie recipe!
Since I can't leave you hanging with an unbaked pie crust, I thought I'd share a simple recipe for some spiced apple hand pies. They are a no pressure way to perfect your pie dough skills before the holidays roll around. Plus, they make a great after school or after work snack!
Spiced Apple Hand Pies
(Makes 10-12)
1 single pie crust
2 apples, peeled and finely diced (about 2 cups)
1/4 cup dark brown sugar, lightly packed
1 teaspoon ground cinnamon
1/4 teaspoon ground cardamom
1-2 tablespoons half and half
Raw sugar
Preheat the oven to 400°F. Lightly grease a baking sheet or line with parchment or a silicon liner.
While the oven preheats, combine the apples, brown sugar, cinnamon, and cardamom in a small mixing bowl.  Toss to evenly mix.
Roll out the pie crust so that it is about 1/4 inch thick.  Use a large circular cookie cutter to cut large rounds out of the pie dough.
Spoon a small amount of filling (about 1-2 tablespoons, depending on the size of the pie dough rounds) into the center of the dough rounds. Brush a small amount of water around the outside of the pie dough. Fold one side of the dough over to create a half-moon and crimp with a fork to seal the edge.
Place the pies on the baking sheet and brush lightly with the half and half.  Sprinkle some raw sugar on the top of each pie.  Bake for 30-35 minutes, until puffed and golden.  Cool on the baking sheet for 5 minutes and then transfer to a wire rack to cool completely.
Be sure to stop by tomorrow for a savory way to use your pie dough!