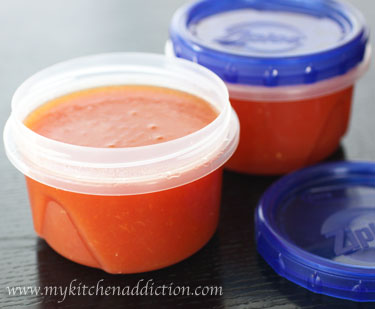 I love to make fresh tomato sauce, but I do not enjoy peeling and seeding tomatoes… At all!
Last summer, I got a big bag of tomatoes (about 40 pounds) from a local farm stand and decided that I wanted to make sauce to freeze so that I would have it for the winter. Fortunately, my mom was kind enough to lend me her food mill so that I wouldn't have to suffer through all of the dreaded peeling and seeding. I loved it and put it on my wish list immediately (and my mom was kind enough to get me a food mill for my birthday later in the year!).
I've been surprised that we've still been getting quite a few tomatoes from our CSA this late in the season.  So, in case you are still seeing lots of tomatoes, I thought I'd share my quick tutorial on making tomato sauce with a food mill. It's a huge time saver, and it works for me!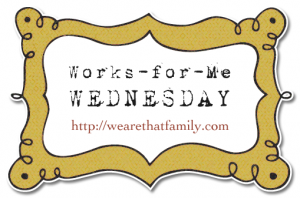 Simple Tomato Sauce with a Food Mill
Start by chopping your tomatoes into large chunks.  You can cut the cores out of large tomatoes, but it's not really necessary for smaller ones.  Place the tomatoes in a big stock pot or dutch oven and bring to a simmer over medium heat.  Simmer for about 5-10 minutes until the tomatoes are soft.
Set up your food mill over a large mixing bowl or a pot.  Ladle the tomatoes into the food mill and churn away… The tomato pulp and juice will fall through to your bowl and all of the skins and seeds will be left in the food mill. Really, it's that easy.
You can use the sauce in your favorite recipes that call for tomato sauce.  If it's a bit thin, you can thicken the recipe with a bit of tomato paste.  It also freezes beautifully in airtight containers for about 6 months.
My favorite way to use tomato sauce (especially in the winter) is to make tomato soup.  Is there anything more comforting than a nice warm bowl of tomato soup and a grilled cheese sandwich on a cold afternoon? So, when I made sauce last week, I also decided to make a big batch of soup using up some of the other CSA veggies I had on hand…  Here's the recipe!
Tomato Soup with Eggplant and Peppers
2 tablespoons extra virgin olive oil
1 small eggplant, peeled and diced
1 large green bell pepper, diced
1 yellow onion, diced
3 cloves garlic, minced
1 1/2 cups chicken stock (or vegetable stock for a vegetarian version)
1 1/2 teaspoons corn starch
5 cups tomato sauce
1 cup cream (or half and half)
Kosher salt
Freshly ground pepper
Heat the olive oil in a large soup kettle or dutch oven over medium heat.  Add the eggplant, bell pepper, onion, and garlic, and saute until tender – about 8-10 minutes.
Meanwhile, whisk together the chicken stock and corn starch until smooth.  Add to the sauteed vegetables. Add the tomato sauce to the pot, and stir to combine all of the ingredients evently.  Bring the soup to a boil and then reduce to a simmer.  Simmer for about 10 minutes until slightly thickened.
Remove the soup from the heat and stir in the cream.  Season to taste with salt and pepper.  Serve immediately.
Not just for tomatoes…
Oh, and did I mention that the food mill also works beautifully for applesauce? Just quarter and core the apples, no need to peel.  Simmer the apples in some apple cider and then run through the food mill for a natural, no sugar added applesauce!