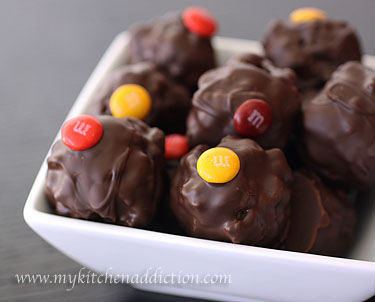 News flash… Halloween is only 3 days away!! Yikes… Are you scared?
Ok, so that's probably really only news to me.  I've been out of it lately. Last weekend, my hubby and I took a nice long weekend trip to Boston for my birthday.  It was fantastic to get away, and I love visiting Boston… But, it got me out of my usual routine a bit, and I've had trouble recovering.  So, the fact that Halloween is a few short days away escaped me entirely, and I have yet to do anything festive… Until this morning, that is.
I've been somewhat exhausted and not feeling great ever since we got home, but this morning I woke up feeling much better… And, I was feeling somewhat inspired to whip something up in the kitchen.  Thought I'm not a big Halloween person (I'm more pumpkins and leaves than ghosts and goblins), I couldn't let the holiday pass without doing something, right? Tonight is the Trick-or-Treat night in our neighborhood, too, so I figured I'd get in the mood by making some easy treats.
Though I was feeling inspired, I hadn't really prepared for any Halloween treats, so I had to work with what was in the pantry.  I have yet to develop the skill to imagine pantry items and have them magically appear without a trip to the grocery store. I need a personal shopper.  Anyway, I pulled out a few of my favorite pantry staples and the bag of fall colored M&Ms that I bought a few weeks ago thinking I'd "make something" and the result was these krispy peanut butter truffles.  I'm calling them "truffles" because I can't think of a better name (balls, bites, treats…. blah). Whatever you want to call them, they are quite tasty (and dangerous to have around… I've been snacking on them this afternoon, so I need to give them away ASAP).
If you don't have fall themed M&Ms, you could also dress them up with some chopped peanuts or your favorite candy (candy corn, anyone?)… I also think a drizzle of white chocolate would be stunning, but I didn't have any white chocolate on hand.
If you need a quick party favor for the weekend, I'd recommend adding the lollipop sticks to make pops.  They're kid friendly, and easier to dip in the chocolate.  In fact, I think this would be a fun treat to make with kids.  I don't have kids, but it seems to me that sticky fingers and lollipops are things that kids would enjoy (though, maybe that's not so parent friendly?).
Regardless of who you make these for, I think they're a fun (and quick!) Halloween treat… And, no one needs to know that you made them at the last second with some odds and ends from the pantry, right? I won't tell!
Krispy Peanut Butter Truffles
(Makes about 24 truffles or pops)
2 tablespoons unsalted butter
20 large marshmallows (about 1/2 bag)
1/2 cup smooth peanut butter
1 tablespoon honey
1/2 teaspoon ground cinnamon
3 cups Rice Krispies (or any crispy rice cereal)
2 cups chocolate chips (I like dark/bittersweet, but anything would work here)
Toppings (M&Ms, nuts, etc)
Melt the butter in a sauce pan over medium-low heat.  Once the butter has melted, add the marshmallows, stirring occasionally until the marshmallows have melted.  Stir in the peanut butter, honey, and cinnamon until smooth.
Meanwhile, lightly grease a mixing bowl, and add the cereal to the bowl.  Pour the marshmallow mixture over the cereal and stir until evenly combined.
Lightly grease your (clean) hands, and roll the mixture into 1 1/2 to 2 inch balls and place on a sheet of waxed paper to cool completely.  If you are adding lollipop sticks to make pops, press the sticks into the center of each ball.
Once the truffles have cooled, heat the chocolate in the microwave for about 15-30 seconds at a time, stirring each time until the chocolate is melted and smooth.  Dip the truffles (or lollipops) into the chocolate and coat evenly.  Shake off the excess, and transfer back to the waxed paper. Add the toppings (if desired) and then let cool until the chocolate has set. You can speed this process up a bit by placing them on a tray and popping them into the fridge, if you like.