Today I am doing something a bit different… I want to share a new cookbook with you, one that I have fallen in love with! The book I'm referring to is Desserts 4 Today by Abigail Johnson Dodge, a lovely collection of desserts that can be made with only four ingredients!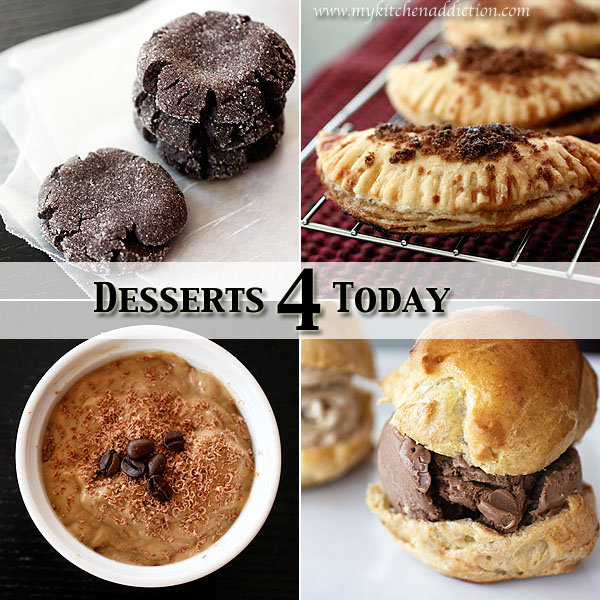 I first met Abby at the Big Summer Potluck last month.  She was preparing one of the recipes in the book during a cooking demonstration. While introducing the book, Abby began mentioning all of the great things that come in fours, including the Beatles. From that moment, I knew we would be fast friends.  The more she talked about the book, though, the more I knew that I would love it just as much as I already loved Abby. She talked about the fact that the recipes are designed to make classy desserts approachable and simple, while still using real ingredients like flour, eggs, and sugar… The ingredients that I bake with on a regular basis (and no boxed cake mixes to be found… whew!).
So, when given the opportunity to review the cookbook, I jumped at the chance.  I couldn't wait to get a copy in my hands and start baking! I knew I would enjoy the cookbook, but I had no idea how much I would fall in love.  After all, I'm not usually a big cookbook person. I like to page through them for inspiration, but I often end up tossing the cookbook aside and coming up with something on my own. With Desserts 4 Today, though, I found myself having a difficult time deciding which recipe to try first. They all looked like desserts that I would be thrilled to serve without feeling like I needed to "fix" anything in the recipe… And you know that I can be kind of picky when it comes to desserts!
Let's talk about the format of Desserts 4 Today, shall we?  It's a book that I am thrilled to add to my cookbook collection, and I think it will have a permanent spot on my "priority" shelf – the shelf in my kitchen where I keep the "go-to" cookbooks that I reference on a daily basis.  Here's why I love it so much…
Approachable, Yet Elegant Recipes – Desserts 4 Today caters to cooks of all skill levels. The recipes are simple enough for an inexperienced home cook, while still remaining sophisticated enough to become a beloved staple in the kitchen of those who have been cooking and baking for years.
Versatility – Not only do the recipes only contain 4 ingredients, but each recipe allows for substitutions that are listed in the cookbook as "Switch Ins" so you can use the ingredients you prefer, or what's already on hand in your pantry!
Endless Possibilities – With options to "Change It Up" with slightly different flavor profiles and "Gussy It Up" to garnish or dress up the dessert with only a few additional ingredients, you can really make each recipe your own. I love that creativity is encouraged!
Now, you don't think I just formed those opinions without making a few of the recipes, do you?  Of course not!  I decided to try four recipes from the book (four just seemed like an appropriate number, don't you agree?). Below I've shared a few photos and thoughts on each recipe… Plus, you'll also find a sample recipe from the book!
Creamy Espresso Pudding for Two (p 78) – My hubby and I both loved these puddings, and they couldn't have been easier! The brown sugar gave the pudding a nice warm flavor with a hint of caramel.  I think these puddings are simple enough to make any night of the week, yet elegant enough for an intimate dinner for two! I jazzed mine up a bit with some shaved chocolate, but I think they'd be wonderful with a dollop of whipped cream, too!
Banana-Brown Sugar Pie Pockets (p 147) – These pie pockets are a perfect afternoon snack. I opted to make my own pie dough, and the pies turned out flakey and delicious! I loved the slightly rustic and casual nature of the dessert.  Next time, I may sprinkle the tops with some raw sugar instead of brown sugar, though, since I like the way it sparkles.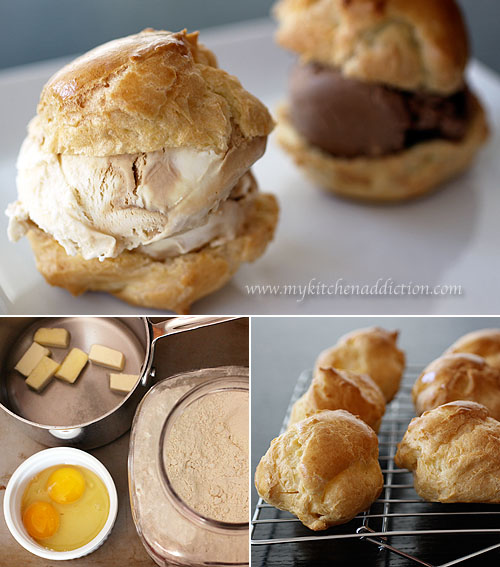 Ice Cream Puffs (p 170) – I am in love with these ice cream puffs. I have made pate a choux in the past, and these puffs turned out better than any others I have ever made.  The recipe is simple and easy to follow (honestly, anyone can do it!), yielding an impressive and elegant dessert. I filled my puffs with a homemade Nutella espresso ice cream and some Starbucks caramel macchiato ice cream.
Sparkling Cocoa Drops (p 16) – I loved the simplicity of these beautiful chocolate cookies.  They are a perfect compliment to a nice hot cup of coffee and look stunning.  I decided to make these cocoa drops my own by adding a bit of cardamom (my new favorite spice).  I loved the combination of dark cocoa and floral cardamom so much that I thought I'd share the recipe with you!
Sparkling Cardamom Cocoa Drops
(adapted from Desserts 4 Today, with permission)
1 cup granulated sugar, divided
8 tablespoons (1 stick) unsalted butter, at room temperature
1/3 cup unsweetened cocoa powder
(I used dark cocoa powder)
1/2 teaspoon ground cardamom
1 cup all-purpose flour
Preheat the oven to 350°F.  Line two cookie sheets with parchment or nonstick liners.  Place 1/4 cup of the granulated sugar in a small bowl and set aside.
Beat together the granulated sugar, softened butter, cocoa powder, and cardamom in a mixing bowl with a hand mixer on slow speed.  Once the mixture is combined and fluffy, add the flour and continue to mix until just blended, for about 1 minute.
Using your hands, roll the dough into 1-inch balls (approximately 1 tablespoon of dough).  Once the balls of dough are shaped, roll them in the reserved sugar and then place on the prepared cookie sheets, spacing them about 1 1/2 inches apart.  Use the palm of your hand to press down on each ball of dough to flatten it a bit.
Bake the cookies until the tops look dry, for approximately 11-12 minutes.  Let the cookies cool on the baking sheets for 5 minutes, and then transfer to a rack to cool completely.  Serve immediately or cover and store at room temperature for up to two days.
My Kitchen Addiction Product Review Policy and Disclosure– I received this cookbook (Desserts 4 Today) at no cost from the publisher (or a representative PR firm) for the purpose of testing and reviewing the book. Unless specified otherwise, I do not accept monetary compensation for reviewing or writing about products. I only review products that I have personally tested and used in my kitchen/home, and all opinions expressed are my own.