While walking through Pike Place Market in Seattle with Mardi and Kelly, we stumbled on an Italian market with a lovely selection of artisan pastas imported from Italy (along with a beautiful assortment of olive oils, Balsamic vinegars, and other things that I knew would weigh down my suitcase too much).  I knew I would have to buy some pasta, but I was having trouble deciding which pasta to choose… Until I discoverd the Spaghetti-O pasta. I knew that I had to have it… And I had to make my own homemade Spaghetti-Os.
The beautiful ring shaped pasta (called anellini) survived the trip home in my suitcase, and I quickly set out to making my own version of the popular canned pasta.  I really can't claim that this version tastes exactly like the canned version (which is probably a good thing, right?) because I am not sure that I've actually ever eaten Spaghetti-Os from a can.  I didn't grow up eating much canned food because my mom also likes to cook and prepared all of our meals from scratch. (That's where I get it… My husband and father will tell you that I am turning into my mother, but that's a story for another time!)
I am always disturbed by the commercials where the child asks what v-e-g-e-t-a-b-l-e-s spells after reading it on the side of a can of pasta…The mom lies because she doesn't want her child to know that there is a "full serving of vegetables" in the pasta. Though I don't have kids, I hope that when I do, I don't have to resort to tricking them into eating vegetables. I add vegetables to a lot of my dishes, but they aren't hiding… The sauce for these homemade Spaghetti-Os is naturally sweet and chock full of chunky veggies (and doesn't have any added garbage).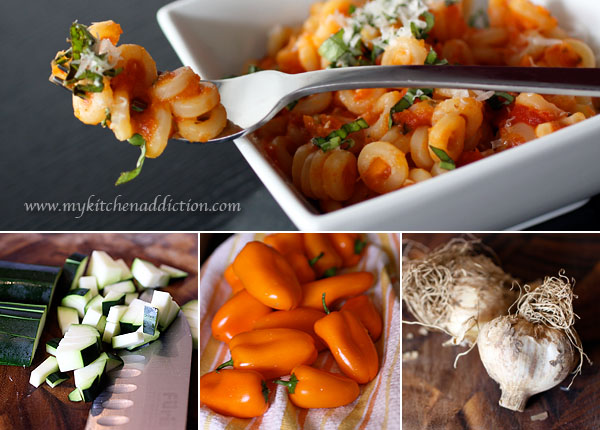 Though there are days where it may seem like you barely have the energy to open up a can of pasta for dinner, I think we can both agree that a fresh dish like this one will taste much better and be better for your family! If you know you're going to be busy, make the sauce ahead of time… It will keep well in the fridge for a few days or can be frozen for a few months!
Homemade Spaghetti-Os
For the Chunky Tomato Sauce:
(Makes enough for 1 pound of pasta + extra to freeze)
2 tablespoons extra virgin olive oil
2 cups carrots, peeled and diced
2 cups onion, diced
2 cups bell pepper, diced
2 cups zucchini, diced
4-6 cloves garlic, minced
8 cups tomatoes, seeded and diced
Kosher salt
Freshly ground black pepper
To finish the Spaghetti-Os:
1 pound anellini pasta (or any shape you like)
Fresh basil leaves
Freshly grated parmigiano-reggiano
To prepare the sauce, heat the oil in a large pot or dutch oven over medium-low heat.  Add the carrots, onion, bell pepper, zucchini, and garlic.  Stir to evenly coat with the oil and cook for about 10-15 minutes until tender. Add the tomatoes to the pot and stir to combine all of the ingredients. Cook, partially covered, for about 30 mintues.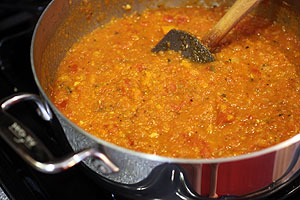 Once the tomatoes are soft and have cooked down a bit, use an immersion blender to partially puree the sauce.  I like my sauce to be chunky, so I just give it a quick blend. Once the sauce is pureed, bring it to a simmer, and cook uncovered for about 20 minutes until it has cooked down into a nice thick sauce. Season to taste with the salt and pepper.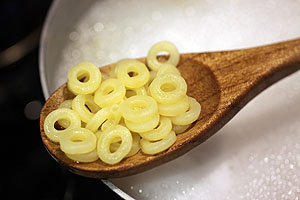 While finishing up the sauce, bring a large pot of salted water up to a boil and cook the pasta according to the package directions. Drain and return the pasta to the pot.  Add 3 cups of the tomato sauce to the pot and toss the pasta in the sauce.
Serve immediately topped with torn basil leaves and parmigiano-reggiano.