It's that time again… Time for this month's Kitchen Bootcamp roundup!
This post is a few days later than I had planned due to my trip to Seattle for IFBC.  While I had the greatest intentions of being able to post the roundup right after my return, I decided to post a few thoughts on the event instead. I hope you'll forgive my tardiness!
I took on a few different vegetable dishes this month… If you haven't already seen them, you can check out my Tomato Eggplant Frittata, Oven Roasted Tomatoes, and Coconut Corn Chowder. But, enough about my posts… You've probably seen those already.  Be sure to take some time and check out the other lovely vegetable dishes that were submitted for this month's challenge!
I love the sound of this Squash, Fennel, and Leek Gratin from Nesting in New York.  It sounds like the perfect end-of-summer comfort food!
This Pasta with Peperonata, Summer Squash and Fresh Mozzarella from Cupcake Muffin looks like a dish that I would just love to dig into!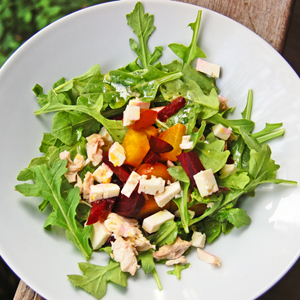 I haven't tried roasting beets before, but the next time we get some from our CSA, I think I will have to try my hand at this Roasted Beet and Goat Cheese Salad from eat. live. travel. write.
In this second post from eat. live. travel. write., you will find two more great vegetable recipes – a lovely ratatouille and a fresh roasted tomatillo salsa!
If you have an overabundance of zucchini from your garden this summer, be sure to take a look at these Zucchini Fritters from Torview Toronto.
This Cannellini Bean and Roasted Eggplant Hummus from The Other Side of Fifty was perfectly timed since I have an eggplant in my fridge waiting to be used. I know what I am going to make!
Thanks to everyone who participated in this month's challenge! Stay tuned for the announcement of the September challenge in the next few days…