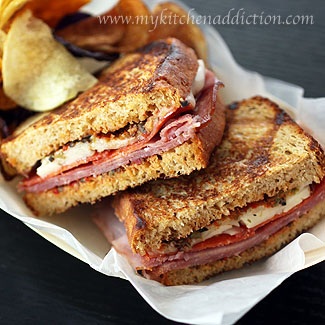 Though it seemed like a great idea at the time, I'm not totally sure why I picked sandwiches for this month's Kitchen Bootcamp challenge. The thing is, I'm not really a sandwich person. Some people can eat a sandwich for lunch every day, but I'm not one of those people, so it's been a bit of a struggle to force myself to work on some new sandwich recipes.
One of the reasons that I don't typically make many sandwiches is that I like my food to be warm (I have a weird thing about eating warm food… don't ask). So, the thought of slapping together cold ingredients in a sandwich is usually less than appetizing to me.  Panini, however, are a different story. I do enjoy toasty grilled sandwiches.  So, I figured panini would be a good place to start.
These Italian panini were inspired by the Italian sub.  As you might expect, even though I am a big fan of Italian meats like salami and pepperoni, eating a cold sub doesn't really do it for me. I figure, why eat a cold Italian sub when you can toast up the ingredients in a tasty Italian panino? I also had a bit of inspiration for the tomato olive spread from my memories of the Meatless Muffalettas from Three Many Cooks that were served at the Big Summer Potluck (one of the few "cold" sandwiches that I actually enjoy).  I made the muffalettas a few weeks ago, but I still had some of the olives and sundried tomaotes leftover, so I made my own quick spread for the panini.
Next I will challenge myself to attempt a cold sandwich… This is a challenge after all!
In the meantime, don't forget to submit your sandwich posts for this month's Kitchen Bootcamp challenge!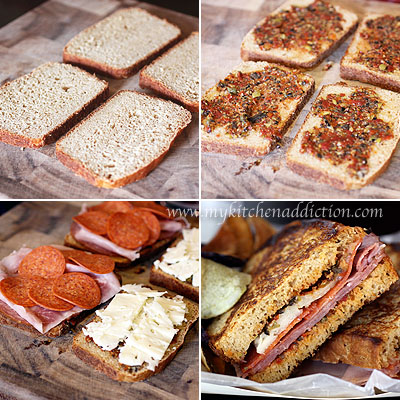 Italian Panini with Tomato Olive Spread
(Makes 4 sandwiches)
For the Tomato Olive Spread:
1/4 cup drained pimento-stuffed green olives
1/4 cup drained ripe black olives
1 tablespoon capers
4 sundried tomatoes packed in olive oil
1 tablespoon extra virgin olive oil
To complete the sandwich:
Extra virgin olive oil for drizzling
8 slices of whole wheat bread
8 slices of hard salami
4 slices of honey ham
24 small slices of pepperoni
(or 8 slices if larger pepperoni is available)
4 ounces asiago cheese, sliced or shredded
Preheat a grill pan with a panini press over medium heat.  Drizzle with a small amount of olive oil
Begin by preparing the tomato olive spread.  Combine the green and black olives, capers, and sundried tomatoes in a food processor or blender.  Pulse until finely chopped.  Add the olive oil and pulse until the spread starts to come together.
To prepare the sandwich, spread the tomato olive spread on each slice of bread. For each sandwich, layer 2 slices of salami, 1 slice of ham, and 6 slices of pepperoni on one piece of bead.  On the other piece of bread, arrange one ounce of asiago cheese.
Put the two sides of sandwich together and place on the grill pan.  Use the panini press to flatten the sandwich and cook for 3-4 minutes until golden and toasted.  Flip the sandwich and cook on the second side for an additional 3-4 minutes until the sandwich is toasted on both sides and the cheese has melted.
Transfer to a cutting board and cut the sandwich in half.  Serve immediately.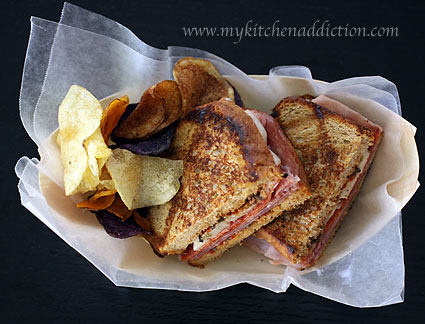 My Kitchen Addiction Product Review Policy and Disclosure– I received the bamboo tableware featured in my photographs at no cost from restaurantware.com for the purpose of testing and photographing. Unless specified otherwise, I do not accept monetary compensation for reviewing or writing about products. I only review products that I have personally tested and used in my kitchen/home, and all opinions expressed are my own.