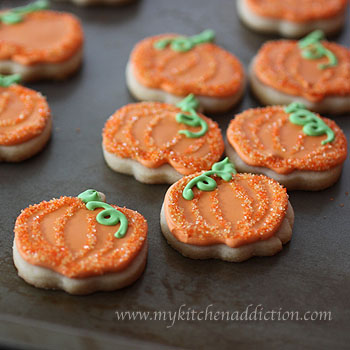 The September 2010 Daring Bakers' challenge was hosted by Mandy of "What the Fruitcake?!" Mandy challenged everyone to make Decorated Sugar Cookies based on recipes from Peggy Porschen and The Joy of Baking.
You can imagine my delight when I discovered that this month's Daring Bakers challenge involved decorating sugar cookies!  I've been slacking a bit on the Daring Bakers challenges lately… A busy schedule and lack of inspiration got the best of me.  So, the sugar cookie challenge was exactly the little burst of inspiration that I needed.  Plus, it was a good excuse to pick up a few new cookie cutters!
I stumbled upon an adorable set of fall-themed mini cookie cutters at a local craft store a few weeks ago… I just couldn't resist them.  I hadn't really thought through the fact that mini cookie cutters would yield lots (and lots) of miniature cookies that would all need to be decorated, though.
Fortunately, I already had a large pumpkin cookie cutter, so I threw in a few large pumpkin cookies, as well.  Even though it got a bit tedious, the miniature cookies ended up being pretty cute and worth the time and effort. They were perfect cupcake toppers for the cupcakes I had already promised to bring to a church event!
Since I was running low on time and had to take the cookies to church, I didn't want to risk a cookie failure, and I used my "usual" vanilla bean sugar cookie recipe. My recipe is actually very similar to the recipe that was provided, though, so I don't think I "cheated" too much.
As I usually do, I decorated the cookies with royal icing, outlining with stiff icing and filling in the outlines with flood icing. For the accents, I used sanding sugar and gold luster dust (which didn't really show up in the photos but added a nice sparkle to the cookies).
For the mini leaf cookies, I did a combination of yellow and orange outlines and then filled in the cookies with yellow.  I used sanding sugar to outline the yellow cookies (using a paint brush to paint water onto the cookies where I wanted the sanding sugar to stick) and added a bit of sanding sugar to the middle of the cookies outlined in orange.
I added a few green accents to the pumpkin cookies with royal icing, and then I finished the cookies off with sanding sugar. I couldn't decide if I liked the narrow sanding sugar lines or wide stripes of sanding sugar, so I did some of each.
Stay tuned later this to see the finished cookie-topped cupcakes!