When I have fruit that's starting to get a bit over-ripe, I will often make a skillet sauce or topping. I find that it will last a week or so in the fridge (I wouldn't recommend trying to can or preserve it), and is delicious on its own or as a topping for ice cream, pancakes, pound cake, and just about anything else you can think of. So, when I had a few peaches leftover from my peach picking excursion that were looking like they had seen better days, I knew exactly what I wanted to do with them.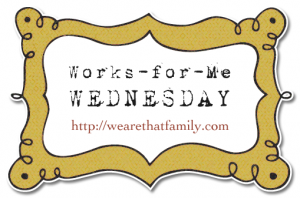 For this week's Works for Me Wednesday post, I could think of nothing better than to share this simple recipe (really, it couldn't be much easier).  With just a few quality ingredients, you get a lot of great flavor without a whole lot of effort.  You can use almost any fruit you have on hand, even frozen fruit. The possibilities are limitless!
Simple Skillet Peaches
6 cups peaches, peeled and cut into bite-sized pieces
1/2 cup raw sugar
1 tablespoon vanilla bean paste
Combine the peaches, raw sugar, and vanilla bean paste in a large skillet over medium heat.  Bring the mixture to a boil, and then reduce to a simmer.  Continue to cook until the peaches are soft and the mixture has thickened (about 20 – 25 minutes). Serve warm or store in the refrigerator for about a week.