Let me be honest here for a moment… Salads are not my favorite thing to eat.  I suppose it's possible that some people do really love salads, but I am not one of those people.  Given the choice between a hamburger and a salad, I will choose the hamburger 95% of the time.
My waistline cannot afford for me to eat hamburgers (or pizza, lasagna, and pasta) all of the time.  So, I try to incorporate salads into my menu each week.  I can't just have a plain and boring salad, though… A plate of lettuce with a drizzle of vinaigrette just won't cut it for me.  My salads need to have big flavors. A salad with big flavors doesn't necessarily have to be complicated, though.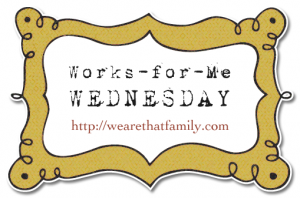 So, for this week's Works for Me Wednesday post, I thought I'd share my tips for making a simple and healthy salad that is packed with flavor.  Instead of spending time chopping countless ingredients and assembling a salad with dozens of different toppings (unless you want to take the time to do that, then by all means…), pick a single quality ingredient to be the flavor that "stands out" in your salad, and then pick a few additional ingredients and a dressing that will work well with your stand out flavor.
Lately, one of my favorite stand out ingredients is blue cheese. It's great for a two reasons… It adds a lot of flavor to the salad and a little bit goes a long way.  I don't have to load my salad with tons of cheese (i.e. calores, fat) in order to add some great flavor.  I've used a variety of different blue cheeses (and gorgonzola cheeses), but most recently I have been using the Maytag Blue cheese that I received from Sam's Club.  It has a great flavor (even for those of you who think you don't like blue cheese, like I used to) and adds a nice creamy punch of flavor to your salad. I like to pair the blue cheese with apple slices, walnuts, and cranberries. Topped with a quick Balsamic Vinaigrette (here's one, for example), it doesn't get much easier (or tastier!).
Cheeses make a great standout flavor in salads, but the options are really limitless.  Some of my other favorites are strawberries (when in season), pomegranate seeds, and Balsamic vinegar.  What are your favorite standout flavors in salads?
Simple Blue Cheese Salad
Green leaf lettuce (or your favorite lettuce)
Crumbled blue cheese
Sliced apple (gala and granny smith are my favorites)
Chopped walnuts
Dried Cranberries
Balsamic vinaigrette dressing (this recipe or your favorite)
Arrange the lettuce on a large salad plate. Top with the blue cheese crumbles, apple slices, walnuts, and dried cranberries.  Drizzle with a tablespoon or two of Balsamic vinaigrette. Enjoy!
My Kitchen Addiction Product Review Policy and Disclosure– I received this product (Maytag Blue cheese) at no cost from the manufacturer (or a representative PR firm) for the purpose of testing and reviewing the product. Unless specified otherwise, I do not accept monetary compensation for reviewing or writing about products. I only review products that I have personally tested and used in my kitchen/home, and all opinions expressed are my own.