Over the weekend, my mom and I went peach picking at a local orchard. There's just something very satisfying about picking your own fruit, and it definitely couldn't be any fresher! I managed to pick 20 pounds of peaches in no time at all, knowing that I wanted to do some canning over the weekend, and this salsa was at the top of my list.
Lately I've been doing quite a bit of canning, so I checked out The Complete Book of Small-Batch Preserving from my local library (twice, actually) for some inspiration and new recipes.  I came across a recipe for peach mint salsa, which I tried a few weeks ago.  I loved the recipe, but it only made enough to can two small half-pint jars.  So, this week, I re-worked the recipe to produce enough to fill four pint jars (or eight half-pint jars). Since peaches are fairly acidic, and I also added lime juice to keep the acidity level the same as the original recipe, my version is still safe for canning (as far as I know!).
Even though you may think that a peach salsa recipe would be fairly sweet, the other ingredients in this salsa really balance things out.  The salsa isn't too sweet, but you can still recognize the peach and mint flavors.  It's fantastic with tortilla chips, but I also think it would make a lovely topping for fish or chicken!
Peach Mint Salsa (For Canning)
Makes 4 pint jars (or 8 half-pint jars)
(Adapted from The Complete Book of Small-Batch Preserving)
1 cup diced onion
1 cup diced bell pepper
2 tablespoons cayenne pepper, seeded and minced
(Note – This is a fresh cayenne pepper, not the dried spice.  You could also use an additional 2 tablespoons of jalapeño, instead.)
2 tablespoons jalapeño, seeded and minced
8 cups peaches, diced
1/2 cup honey
1 teaspoon Kosher salt
4 limes, zest and juice
1/2 cup fresh mint leaves, finely chopped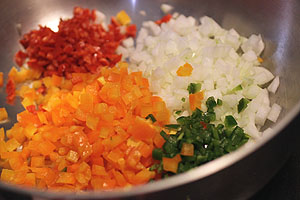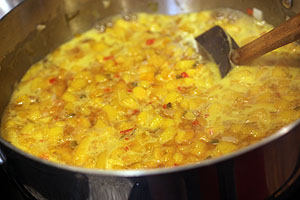 Combine the onion, bell pepper, cayenne pepper, jalapeño, peaches, honey, salt, and the zest and juice from the two limes in a large pot or dutch oven.  Cook over high heat until the mixture comes to a boil.  Continue to boil for five minutes, stirring occasionally. Add the mint, and continue to cook for an additional minute.
Ladle the mixture into hot, sterilized jars. Wipe the rim and then fit with a lid and band.  Process for 20 minutes once the water has returned to a boil. (For more specific directions for safe canning, refer to the following tutorial.)