After going camping a few weeks back, I've been on a bit of a smores kick. While I have been known to roast marshmallows on the gas burners on my kitchen stove when cravings hit, this time I decided to channel my inspiration into these nutty smores bars.
This was one of those recipes that took me a few tries to get it "right."  I started with a recipe for smores granola bars from the King Arthur Flour Cookie Companion. I'm sure the original recipe would have been great, but we all know that I can rarely just leave well enough alone.  What fun would that be? Instead, I was determined to make nutty peanut butter bars that were topped with marshmallows and chocolate chips. I also added toasted walnuts and golden milled flax to the recipe to make the bars a bit heartier. My first few attempts tasted amazing but fell apart when I tried to cut them. After a few tries, though, I had sturdy bars that tasted great. Success!
My final recipe yielded these tasty bars (or cookies?) that are a bit of a cross between a granola bar and a Rice Krispy treat… Topped with marshmallows and chocolate, of course! While they may not be what you would consider health food, they do make a fantastic afternoon snack!
Nuts for Smores Bars
(Adapted from the King Arthur Flour Cookie Companion)
2 cups old fashioned rolled oats
1 cup walnuts, chopped
(pecans would be wonderful, too)
2 cups Rice Krispies cereal
1/2 cup golden milled flax
1/2 cup peanut butter
1/3 cup brown sugar
1/4 cup (1/2 stick) unsalted butter
1/4 cup corn syrup
3 cups mini marshmallows, divided
1/2 cup chocolate chips
Preheat the oven to 425°F.  Lightly grease a 9 by 13-inch pan.
Spread the oats and walnuts in the prepared pan and toast for about 5-6 minutes in the preheated oven, stirring occasionally.  Set aside to cool.
Meanwhile, in a large mixing bowl, combine the Rice Krispies cereal and the golden milled flax.  Once the oats and walnuts have cooled, add them to the cereal mixture and stir.
Combine the peanut butter, brown sugar, butter, and corn syrup in a saucepan over medium-low heat, stirring frequently until the mixture is smooth and creamy. Bring to a bubble, remove from the heat, and stir in 2 cups of the marshmallows. Continue stirring until the marshmallows are fully incorporated.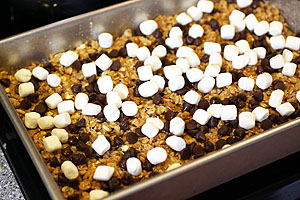 Pour the mixture into the cereal in the mixing bowl.  Stir with a wooden spoon until thoroughly mixed.  Transfer the mixture to the baking pan (you can use the same one that you toasted the oats and walnuts in!), and use your fingers to press the mixture into the bottom of the pan.  Sprinkle with the remaining marshmallows and the chocolate chips.  Bake in the oven for 5 minutes until the marshmallows have puffed up and toasted slightly.
Cool on a rack for at least 20 minutes before cutting into squares. Individually wrap the bars or store in an airtight container.