I hope you've been enjoying my Works For Me Wednesday posts for the past few weeks… And, more importantly, I hope that you're finding my kitchen tips and simple recipes to be helpful in your own kitchen!  This week, I thought I'd share my formula for quick and easy frittatas. If you look through the recipe history on my site, you'll see that I make frittatas quite often, and those are just the ones I've posted!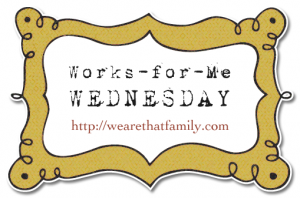 I make frittatas a lot because I can throw them together in a matter of minutes and they can be served for breakfast, lunch, or dinner!  I just use whatever I have on hand, so they're also a great way to use up leftovers and odds and ends of veggies that are hanging out in my fridge. And, as an added bonus, you'll discover that they can be pretty healthy, too!
If you're scrolling down through this post looking for a recipe, I can tell you now that you won't find one.  The thing is, you really don't need a recipe to make a great frittata.  Just follow these 5 simple steps and go with your instincts (as well as whatever's in the fridge!)…
Saute Frittata Fillings… Simply heat a nonstick skillet over medium heat and saute the meats and veggies (and any other ingredients) you're adding to your frittata until they are tender.  I use whatever's on hand, but some of my favorites are chicken sausage, bell peppers, onions, and tomatoes.  You can even throw in leftover pasta.

Beat Eggs and Milk… While the fillings are cooking, whisk together the eggs and milk for your frittata.  You want enough to cover the ingredients you're sauteeing. To keep things light, I usually use half eggs and half egg whites (saving the yolks for ice cream or custards!).  For my 10-inch nonstick skillet, I use 2 eggs, 2 egg whites, and approximately 1/4 cup of milk.  You can season with salt and pepper at this point, too.

Add Eggs to Frittata Fillings… Pour the eggs and milk over the sauteed frittata ingredients and give everything a quick stir.  No sweat!

Reduce and Cover… Reduce the heat to medium-low and cover the skillet. Allow the frittata to cook for about 6-8 minutes.  The bottom will be set, but the top will still be a bit runny… And, that's OK!

Finish Under the Broiler… In the interest of time, finish cooking it under the broiler for about 5 minutes. The top will set up beautifully and have a lovely golden color.  If you like, you can add some shredded cheese to the top of the frittata before popping it under the broiler, and it will get golden and bubbly.