Today I am thrilled to welcome another blogger as a part of my summer mini-series!  Today we are taking a trip to visit  Flavia from Flavia's Flavors. I was especially excited to see what Flavia would come up with for a guest posts because she makes some incredible Italian dishes.  As you know, I love all things Italian (and I'm quite jealous of Flavia since I wish I was Italian), so I knew I would be thrilled with whatever she chose to write about!
As I expected, Flavia came up with something fantastic that also happens to be one of my favorite dishes… Eggplant Parmigiana! Though I haven't had a chance to try her recipe myself yet, I can assure you that it is at the top of my list.
Thanks, Flavia, for stopping by to share your Eggplant Parmigiana!
Hello everyone! My name is Flavia and I write a food blog called Flavia's Flavors. Back in May, I read Jen's tweet about her search for some guest posts to her lovely blog, and after contacting her, I was flattered to be given such a fun opportunity. I have only been blogging for a year and a half, so I am still "learning the ropes", but one thing I learned very early on is that the food blogging community is very generous and welcoming. I am having so much fun sharing ideas and making new "foodie friends" though the blogs I read, as well as through Twitter and Facebook. Jen's blog is one I read regularly and thoroughly enjoy, and I am very happy to share a great Eggplant Parmigiana recipe with you here on My Kitchen Addiction. Thanks, Jen!
This recipe comes from one of my favorite cookbooks in my collection, Marcella Hazan's Essentials of Classic Italian Cooking. If you enjoy learning about authentic Italian cuisine, I highly recommend this cookbook. It's particulary special to me because it contains many recipes that I ate growing up, both in my home state of Maryland and in the dining rooms of my relatives in Italy.
I've always thought that Eggplant Parmigiana was more of an Italian-American creation, but it turns out that it originated in southern Italy–the regions of Campania and Sicily both claim it as having originated in their respective region. It's also believed that the name of the dish became altered when the Sicilian word "parmiciana" (dialect for "shingle") was changed to "parmigiana", in reference to the famous cheese from Parma that is used in this dish. However, the original meaning of the name of this recipe never had anything to do with the city of Parma or Parmigiano cheese! Rather, it referred to the manner in which the fried slices of eggplant are arranged in the baking dish–overlapping in the same way shingles are arranged on a rooftop.
Making Eggplant Parmigiana is a bit time-consuming, but if you plan properly, it comes together very easily. The trick is to stay organized and prepare all of the components ahead of time so that when you go to assemble it, everything is at the ready. Although I've listed quantities and measurements for the ingredients, be aware that you don't need to be that exact when making this recipe. I usually make more sauce than I need and don't always use all the mozzarella. You can also use the smaller variety of purple eggplant if you can find them in your supermarket–they tend to be sweeter and more tender than the larger ones, and don't need to be salted beforehand. I've listed the recipe in a step-by-step fashion with helpful tips so that if you are new to making this recipe, you will make Eggplant Parmigiana with success every time. Buon Appetito!
Eggplant Parmigiana
( Adapted from Essentials of Classic Italian Cooking by Marcella Hazan)
Serves 2-4 people
1 large eggplant (about 1lb-1½lbs.), peeled (optional) and sliced into ¼-inch rounds
½ cup all-purpose flour
2-2½ cups vegetable or canola oil
6-8 fresh basil leaves, washed and dried thoroughly
½ pound fresh mozzarella, patted dry and thinly sliced
¼ cup grated Parmigiano Reggiano
Pat of unsalted butter, for smearing the baking dish
Simple Tomato/Marinara Sauce (recipe follows)
For the Simple Tomato Sauce:
I am giving you the recipe to make this sauce from scratch, which is very easy and comes together quickly, but feel free to use a good-quality jarred marinara sauce if you prefer.
2-3 garlic cloves
2 T. extra-virgin olive oil
2 15oz. cans crushed tomatoes (with their juice)
½ tsp. salt
¼ tsp. pepper
Peel the garlic and slice it thinly.
Heat the olive oil in a pot over medium-low heat. Add in the garlic and stir it frequently, making sure it does not burn, about 2 minutes. Lower the heat if necessary. Add in the crushed tomatoes, salt and pepper and stir well to combine. Cover partially with a lid and simmer over medium-low heat, stirring occasionally, until the sauce has thickened, 30-45 minutes. Remove from the heat, uncover and let the sauce cool to room temperature (it will continue to thicken slightly as it cools).
Tip: The sauce can be made in advance, cooled and refrigerated up to 2 days or frozen in a well-sealed container for up to 1 month. Defrost completely in the refrigerator and re-heat over medium-low heat.
To prepare and cook the eggplant:
Peel the eggplant (optional) and slice into ¼-inch rounds. Place the eggplant rounds in a large colander and layer them on top of each other, salting each layer as you stack.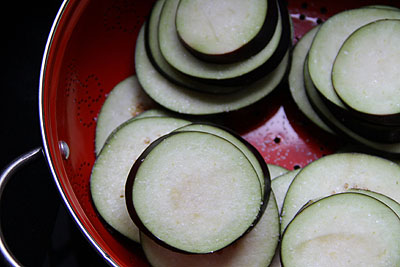 Let steep in the sink or over a large bowl for up to 30 minutes. Have a baking sheet lined with paper towels set aside. When the eggplant have finished steeping in the salt, rinse them under cold water and lay the rounds in a single layer on the paper towel-lined baking sheet. Pat dry thoroughly with more paper towels.
Preheat the oven to 400°.
Smear an oven-safe baking dish with the pat of butter and set aside.
Slice the mozzarella, tear the basil into small pieces and set aside the Parmigiano Reggiano.
Line another baking sheet with paper towels and place by the stove.
Place the flour in a shallow dish and move the dried eggplant rounds and the dish of flour next to the stove.
In a straight-side shallow frying pan, heat the vegetable oil over medium-high heat, making sure it does not begin to smoke. You can use a candy/oil thermometer to measure the temperature of the oil–it should reach 350°.
While the oil is heating, dredge a few of the eggplant rounds in the flour.
Using tongs, carefully lower the floured eggplant rounds into the preheated oil and fry until they are a deep golden brown, turning them only once.
Make sure not to fry too many eggplant rounds at a time or else the temperature of the oil will drop and the eggplant will absorb too much oil and not crisp up. As the eggplant rounds finish frying, transfer them to the paper towel-lined baking sheet to cool. The paper towels will absorb any excess oil.
If you want, you can sprinkle the cooked eggplant rounds with a little bit of salt. Continue dredging the eggplant rounds in the flour and frying them until you have cooked all of the eggplant.
Tip: When you are finished frying, let the oil in the frying pan cool completely. Do not pour the oil down the drain. I usually save a few aluminum cans after making tomato sauce and transfer the oil into one of them, cover it with plastic wrap or foil and put it in the freezer until trash day.
To assemble the Eggplant Parmigiana
Arrange the tomato sauce, fried eggplant rounds, sliced mozzarella, basil and Parmigiano Reggiano on a work surface.
Spoon some of the tomato sauce onto the bottom of the buttered baking dish.
Arrange some of the fried eggplant rounds on top of the sauce in a single layer. Top with some slices of mozzarella, some basil, a sprinkling of Parmigiano and some sauce.
Repeat this process until you have used up all of the eggplant. Top the final layer of eggplant rounds with mozzarella, basil, sauce and Parmigiano.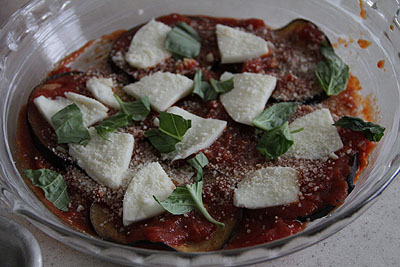 Bake for 25-30 minutes, until the cheese has melted and the sauce bubbles gently. After removing it from the oven, let it stand for about 5 minutes before serving. Cool any leftovers to room temperature and store in a tightly sealed container in the refrigerator for up to 2 days.