My husband and I have really cut back on the amount of meat that we eat, and we eat our share of meatless meals each week.  I don't know about you, but I find it much easier to eat vegetarian in the summer when I have a lot of fresh vegetables at my disposal.  Between my garden, our CSA, and a local farmers' market that I discovered a few weeks ago, I have had no shortage of fresh inspiration.
So, for this month's Kitchen Bootcamp challenge, I thought it would be appropriate to pick the chapter in The Professional Chef that deals with cooking vegetables (chapter 25).  It's a pretty broad topic, and just about any dish made with vegetables will do.  Just keep your eyes open and let the beautiful array of fresh produce that's in season be your inspiration.  Whether you're cooking what you got in your CSA box or what looked good at the local farmers' market, I'm sure you'll find some great info in The Professional Chef.  The chapter is full of instruction and techniques – from boiling and steaming to frying, baking, and sauteing. As always, don't miss the recipes at the end of the chapter for even more ideas and inspiration.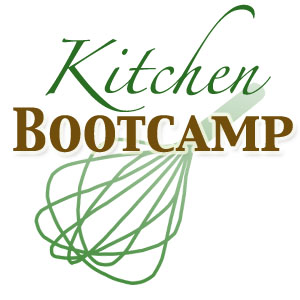 To participate in this month's challenge, simply prepare and write about a recipe that incorporates vegetables… It's quite simple!  Once you have written a post, be sure to stop back here to submit your post for the roundup at the end of the month. I will be posting the roundup on Tuesday, August 31st.
If you read my blog regularly, you know that I'm a big fan of frittatas. They make a great healthy meatless meal that can be prepared with minimal effort.  Sometimes we all need meals like that, don't we?
The inspiration for this frittata came from the beautiful Japanese eggplant we received in our CSA box last week.  I enjoy cooking Japanese eggplants because they are sweet and tender and don't generally need to be salted… Perfect for a quick meal!  I had originally contemplated making some eggplant parmigiana, but I was running low on energy and wasn't in the mood for breading and frying.  I wanted something a bit lighter for dinner, so I ran with the flavors from the eggplant parm (eggplant, tomato, and cheese) and decided to use them to make a frittata!
In addition to the beautiful Japanese eggplant, we also have beautiful golden (and very sweet) cherry tomatoes growing in our garden.  For the cheese in my frittata, I decided to use the Boni Grana Padano that was sent to me by Sam's Club (who have graciously provided me with a great selection of cheeses to review and use in recipes!). Sam's Club will be introducing a lovely selection of international cheeses in their clubs over the next several months, and I was thrilled to have the chance to give them a try! Since I'm not a cheese expert, let me share with you their description of the Boni Grana Padano that I used in this recipe…
This is a semi-fat hard cow's cheese which is cooked and ripened slowly for at least 9 months.  Grana Padano is a fragrant cheese with a delicate flavor.
I found the cheese to be delightful in this dish.  The cheese had a slightly nutty flavor and paired perfectly with the eggplant. If you can't find the Grana Padano, however, feel free to substitute your favorite Parmigiano-Reggiano.
Tomato Eggplant Frittata
1 tablespoon extra virgin olive oil
1 small Japanese eggplant, cut into cubes
1 cup golden cherry tomatoes, quartered
2 eggs + 2 egg whites
1/2 cup milk
4 ounces Grana Padano cheese
(or substitute Parmigiano-Reggiano)
Heat the oil in a nonstick skillet over medium heat.  Saute the eggplant and cherry tomatoes until soft and tender. Reduce the heat to medium-low.
Meanwhile, whisk together the eggs, egg whites, milk, and half of the cheese in a small mixing bowl.  Pour the egg mixture over the sauteed vegetables.  Cover and continue to cook on medium-low for about 5 minutes.  The frittata will be partially cooked, but the top will not yet be set.
Sprinkle with the remaining cheese and broil for an additional 5 minutes until the frittata is cooked through, the top is set, and the cheese is golden and bubbly.
Serve immediately topped with additional cherry tomatoes (if desired).
My Kitchen Addiction Product Review Policy and Disclosure- I received this product (Grana Padano cheese) at no cost from the manufacturer (or a representative PR firm) for the purpose of testing and reviewing the product. Unless specified otherwise, I do not accept monetary compensation for reviewing or writing about products. I only review products that I have personally tested and used in my kitchen/home, and all opinions expressed are my own.