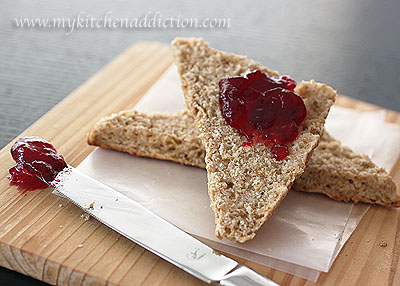 Ever since I got a taste of canning with the Bread and Butter Pickles I made a few weeks ago, I really can't get enough. Previously I had always assumed that canning wasn't for me… It seemed hot, messy, and like more work than it was worth. Though it can be a bit warm in the kitchen and I have been known to make giant messes in the kitchen, I have found the process to be quite enjoyable… And definitely worth the effort (and it's really not that much effort).
I've also recently discovered a local farmers' market that is just down the street from my house. Many of the vendors are farmers who have either organic or naturally grown fruits, vegetables, and even meats.  So, I've been able to supplement my CSA (which is primarily all veggies) with some beautiful fruit.  Last week I came across some deep red plums that almost looked like cherries. When I saw them, I knew they'd be perfect for some jam, so I stocked up on quite a few!
For now, I'm still sticking to "tried and true" canning recipes because I still have horrible visions of poisoning friends and family if I try something new.  So, this recipe for plum jam came on the insert in my box of Ball Fruit Pectin.  It's pretty basic and turned out beautifully for me… If you want to start canning, I think this would be a great place to start!
Plum Jam
Makes about 9 half-pint jars
(from Ball Fruit Pectin insert)
6 cups plums, pitted and chopped
(for the small plums, my cherry pitter worked beautifully to remove the pits)
1/2 cup water
1 box (1.75 ounces) Ball Original Fruit Pectin
8 cups sugar
Wash your jars and lids and then transfer them to hot, almost boiling water until you are ready to fill them.
Combine the chopped plums and the water in a large pot and simmer for about 5 minutes.
Over high heat, gradually stir in the pectin and bring the mixture to a rolling boil that cannot be stirred down.  While stirring constantly, add the sugar.  Once the sugar has dissolved, bring the mixture back to a boil and boil for 1 minute.
Remove the jam from the heat and carefully ladle the hot liquid into the hot jars. Wipe the rim of the jar before fitting it with the lid and band.  Process the jars in boiling water for 10 minutes.
Note: If you have extra jam left over, you can transfer it to an airtight container and keep it in the fridge!