It's that time again… Time to showcase everyone's hard work for this month's Kitchen Bootcamp challenge! I am so thrilled that so many of you took the time to participate and cook along side of me, especially because I rushed this challenge a bit to get it in by the end of the month.  It's so much more fun knowing that there are lots of others taking on the Kitchen Bootcamp challenge and working through The Professional Chef with me. I'm already looking forward to next month!
Before I get ahead of myself and start talking about next month, let me take a few minutes to share all of the salads and dressings from this month's challenge!
I shared three salad/dressing recipes this month… A Harvest Grains Salad with Chili Lime Dressing, an Asian-inspired Peanut Dressing, and a Grilled Eggplant and Squash Caprese Salad made with fresh basil oil.

I love the flavors in this Potato Salad with Fava Beans and Fennel from Cupcake Muffin… I can just imagine the lovely bright flavor from the lemon in the recipe!
One of my favorite things about food blogging is the way it brings food lovers from all over the world together. This lovely post about Spiced Eggplant Salad from Ma che ti sei mangiato is a perfect example!
I love spicy food, and I also have a thing for avocado. So, you can imagine how excited I was to see this lovely Green Salad with Tortilla Strips and Avocado-Serrano Dressing from An Opera Singer in the Kitchen.
You already know that I adore Mags, so of course I'm loving this "Cool as a Cucumber" Salad from The Other Side of 50. If you have cucumbers from your garden and CSA, I think this would be a lovely way to use them!
Papaya's not a fruit that you will find very frequently in my kitchen, but this Papaya Salad with Honey-Lemon Dressing has me feeling inspired. Doesn't it look fantastic?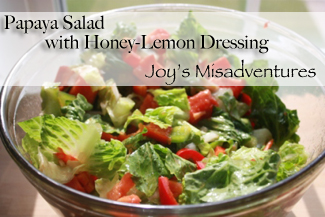 I am an intrigued by the refreshing flavors in this Lemon-Ginger Sesame Dressing from eat. live. travel. write. I know it's a dressing I would love.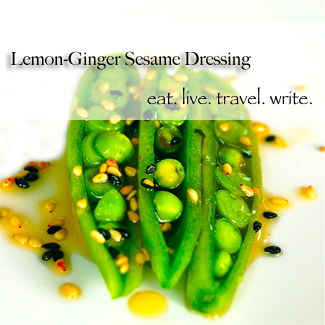 I don't incorporate Greek flavors into my recipes nearly enough. This Greek Salad from Feels Like Home is a great reminder… I especially love the artichoke hearts!
I love Mexican flavors, especially in the summer. Cilantro is one of my favorites, so I'm going to have to try this Cilantro Pesto Vinaigrette from Cooking with the Whineaux.
I hope everyone enjoyed this month's challenge. I had a fun time exploring new flavors and reading all about everyone's salad creations. Don't forget to stay tuned next week when I'll be announcing the challenge for August!