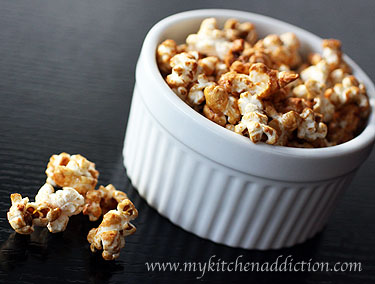 Lately I feel like I'm constantly apologizing for how busy I am and the fact that I'm posting "simple" recipes. I have plans for some more "sophisticated" recipes in the next week or so, but I've been finding it hard to get around to preparing and photographing them.  Work has picked up a bit for me, and I've had quite a few things going on at once.
The good news is that being busy has forced me to develop some simpler recipes (yes, that's exactly what I've been apologizing for)… In some ways, though I do enjoy the complicated/fancy recipes, I think the simpler ones are often more useful to everyone reading my blog. I know I'm not the only one who feels like life never slows down and I hardly have time to think… So, I am soon going to learn to stop apologizing for it and embrace it.  Instead, you'll probably see more of me sharing the simple recipes and kitchen tips I have found useful in getting through my week and still managing to put dinner on the table. (But for those of you who do enjoy reading all about how I made puff pastry from scratch or something like that, I'm sure there will still be plenty of that thrown in, too!)
Today I thought it would be fun to share with you a quick recipe for kettle corn… We had friends over the other night and I wanted to make something to snack on while we watched a movie (I can't have friends over and not make something… It's kind of what I do!). I didn't have the time or energy to bake a cake or decorate cookies, so I was forced to think "simpler". Kettle corn came to mind, so I decided to give it a shot.  I have a thing for brown sugar… I think it's the molasses/caramel flavor that I just can't get enough of.  So, I decided that I would make kettle corn with brown sugar instead of white sugar.  I knew the flavor would be good but it might be a bit tricky to get the balance right.  After a few tries (and a lot of scrubbing burnt sugar from the bottom of one of my All Clad pots), my efforts paid off. This kettle corn is somewhere between traditional kettle corn and caramel corn with a slightly "burnt but not too burnt" salty and sweet brown sugar flavor. It's a perfect treat when you don't have a lot of time!
Brown Sugar Kettle Corn
1/4 cup canola oil
1/2 cup popcorn
3 tablespoons brown sugar
1 teaspoon Kosher salt
Note: Be sure to have a large bowl to transfer your popcorn to ready *before* you get started… This is one recipe where having everything in place ahead of time is essential so you don't burn the popcorn!
Heat the oil in a large pot (with a lid) over medium heat.  Add 3-4 kernels of corn to the oil and cover the pot.  Wait until all of the kernels have popped to add the rest of the popcorn. This will ensure that your oil is the correct temperature when you do add the rest of the popcorn which will mean more nicely popped popcorn and fewer burnt/unpopped pieces.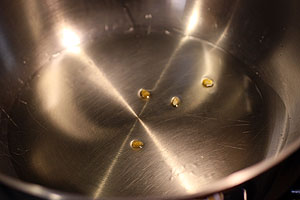 While the oil is heating, combine the brown sugar and salt in a small dish and give it a quick stir.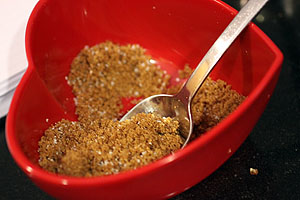 Once the oil is hot, add the 1/2 cup of popcorn, and sprinkle the sugar and salt mixture lightly over the top.  Cover the pot and give it a good shake to toss all of the ingredients together with the oil (you will definitely want two pot holders/oven mits for this).  Return the pot to the heat and continue to shake frequently until the popcorn has popped.  Shaking is really the key here… It will keep the popcorn and the sugar from sticking and burning to the bottom of the pot and it will also help to evenly coat all of your popcorn with the brown sugar.
Once the popping begins to slow, remove the pot from the heat and quickly transfer the popcorn to a large bowl. Gently stir the popcorn in the bowl with a wooden spoon every few minutes until it cools and is no longer sticky. Enjoy!