When it comes to the kitchen, I find that the more I know, the more I want to learn… I am constantly trying to master new techniques and broaden my kitchen skills. I just can't get enough!
I recently decided that canning would be my next kitchen venture, so I headed off to a local kitchen store and picked up a few of the essentials – a big canning pot and rack, a jar lifter, and a canning funnel.  I'm not much of a gadget person (and have very few "gadgets" in my kitchen… just the basics!), but I knew that these would be necessary tools to have on hand. I wasn't completely new to the process because I used to help my mom with canning when I was a kid.  It's been a while, though… And, as a kid, I wasn't the one in charge of the boiling water!
I settled on making bread and butter pickles for my first canning experience… They are my hubby's favorite, and I remember making them with my mom (and snacking on the ones that didn't fit into the jar… yum!). Plus, it didn't hurt that we had a ridiculous amount of cucumbers on hand. For the first time (ever), the cucumber plants that I planted in my garden are producing cucumbers… LOTS of them! Plus, we've been getting quite a few cucumbers from our CSA. I don't know about you, but I can't eat 8-10 cucumbers each week, so it just seemed natural to make pickles.
I decided to start with a "tried and true" recipe for my first attempt at canning – not wanting to poison anyone and all! One of my go-to reference cookbooks is the Better Homes and Gardens Cookbook (the exact version that I own doesn't appear to be available anymore, but this one looks close), so I figured I couldn't go wrong with their recipe.  My assumption was correct… The pickles were great (and just as tasty to snack on as I had remembered), and the whole process was much easier than I expected. I plan on doing some more canning throughout the rest of the summer, too!
Bread and Butter Pickles
(Yields 7 pints, from Better Homes and Gardens Cookbook)
16 cups thinly sliced cucumbers
(If you have a mandolin, this is the time to use it!)
8 sweet onions, thinly sliced
1/3 cup pickling salt (or Kosher salt)
3 cloves garlic, halved
Ice cubes
4 cups sugar
3 cups apple cider vinegar
2 tablespoons mustard seeds
1 1/2 teaspoons ground turmeric
1 1/2 teaspoons celery seeds
Combine the sliced cucumbers and sliced onions in a large stock pot. Stir in the salt and the halved garlic cloves. Top with a layer of ice cubes (about 1-2 inches), cover, and refrigerate for 3-4 hours (up to 12).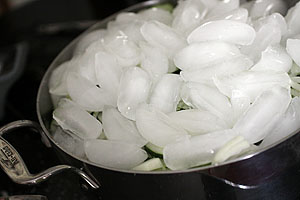 After refrigerating, discard any ice that has not melted.  Drain in a large colander, and remove the garlic cloves.
Meanwhile, combine the sugar, vinegar, and spices in the large stock pot.  Heat to boiling. Add the drained cucumber mixture, and return to a boil.
Transfer the pickles to sterilized pint canning jars.  Wipe the jar rims and add the lids. Process in the boiling water canner (placing the jars on a rack, filling with liquid to cover the jars, and returning to a boil) for 10 minutes. Be sure to start timing after the water returns to a boil.
Remove the jars and allow to cool. If the lids remain down when they are pressed on, the jars are sealed properly. Refrigerate any jars that did not seal properly.