It's time to bring the first month of the Kitchen Bootcamp challenge to a close! I've had a great time with this first challenge, and I hope you have enjoyed reading about my adventures as I work through The Professional Chef. I took on two sauces this month – a Simple Tomato Sauce and a Creamy Gorgonzola Sauce.
I had hoped to take on a few additional sauce recipes, but I ran out of time. I especially wanted to revisit Beurre Blanc now that I have a great source for information in The Professional Chef. I'm sure many of you know how that feels! So, we may have to come back to the Sauces chapter sometime in the future!
Enough about the sauces I've made, though… You've seen them before. I've also enjoyed reading everyone else's Kitchen Bootcamp posts! So, today I am going to take the opportunity to share those posts with you…
Doesn't this Hawaiian BBQ Sauce from Joy's Misadventures look wonderful? I'd love to have a bite of that sandwich!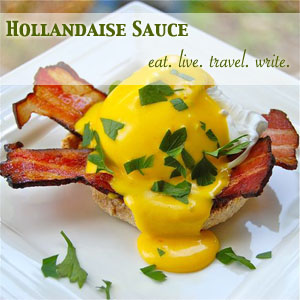 One of the sauces that I didn't have time to get to was Hollandaise Sauce. This Hollandaise Sauce from eat. live. travel. write. looks spectacular. Who wouldn't love Eggs Benedict with this yummy sauce?
Ever since I met her last September, Jendi has been encouraging me to make some videos for my site. This challenge was the inspiration I needed to finally find the courage to make a few videos, and it was a good inspiration for Jendi to try a new recipe, as well. Check out her video all about Red Sauce over at Jendi's Journal!
I am a big fan of all things Mexican, and one of my favorites is tomatillo sauce.  I can't wait to give this Salsa Verde from Cooking With The Whineaux a try. I think it would be great in some chicken enchiladas… Don't you agree?
Thank You…
I'm so glad that everyone had a good time with this month's challenge! Thanks so much for joining me in this adventure. It's a lot more fun knowing that there are others cooking right along with me.  Don't forget to stop by next week to find out all about the June challenge!