You may have noticed that I've been a bit distant in the past week… You're not just imagining it! I have neglected to update my Project 365 photos on Flickr, I haven't been posting as much, and I haven't been keeping up with everyone's tweets! I do have a good reason, though… I was working on a bit of a project!
While we were in Cape Cod, a friend asked if I would make a cake for her daughter's graduation party (which was on Saturday). Of course, I agreed… We decided to go with a small cookie cake that displayed the grad's interests and hobbies to be the centerpiece for the dessert table. To make things easy at the party, I also made cupcakes decorated with small cookies so that we wouldn't have to bother with dismantling/cutting the cake.
If you did catch me on Twitter last week, most likely I was tweeting about the cake or the cookies.  And, I know a lot of you wanted to see the pictures of the finished cake. It's only fair, right?  After all, many of you have helped me through the various steps along the way! So, even though I don't have a recipe to go along with this post today, I thought I'd share some pictures of the finished cookie cake and cupcakes!
The school colors were orange and black, but I couldn't imagine having cookies that were all orange and black, so I decided to do a white base of flood icing on the cookies (some outlined in black) and then decorate and incorporate orange and black in the decorations.
To decorate the cake, I made large round cookies and painted pictures to represent the grad's favorite things, interests, activities, and hobbies from high school… Music, fashion, sports, drama, and even her favorite Bible verse!
I found this great video over at University of Cookie about painting on cookies with food coloring. If you're interested in painting cookies, I recommend that you check it out.  This was the first time that I have attempted to paint on cookies, so I was fairly happy with the results.  As you can guess, my favorite is the Coach bag cookie!
I also found some cute graduation themed cookie cutters, so I made a few more traditional graduation cookies to go with the cake!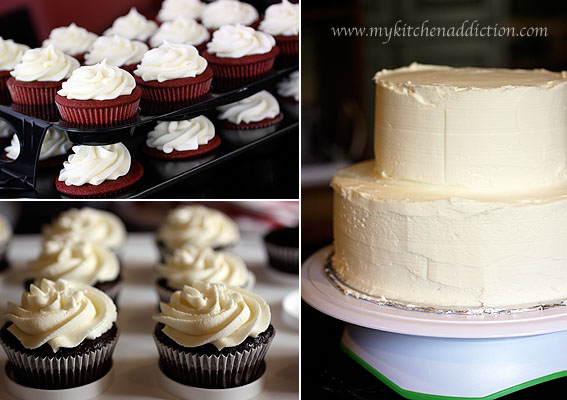 The cake was a two-tier vanilla cake with 6-inch and 9-inch tiers.  I had originally made fondant to cover the cake, but I wasn't thrilled with how it turned out, so I decided to just use traditional buttercream instead. Not the smoothest cake I've ever seen, but much better than some of the cakes I've done in the past. It's all about practice, right?  For the cupcakes, I did vanilla, red velvet (with cream cheese icing, of course), and chocolate – close to 7 dozen in total!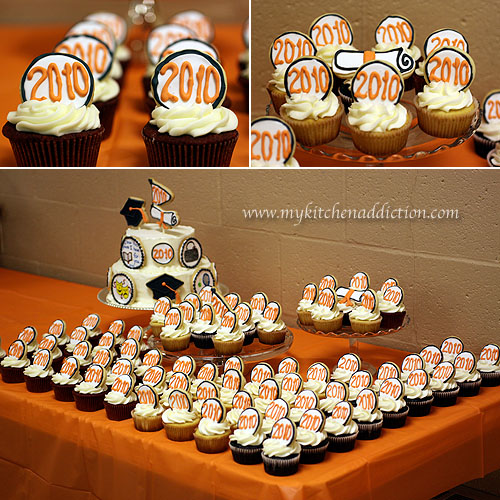 To top the cupcakes, I made little circle cookie that said '2010'… Not the brightest design idea on my part for a few reasons. First, I am AWFUL at piping circles, and I did about 8 dozen of them.  Second, I chose to pipe the circles in black which made my poor piping skills stand out.  Third, I had to pipe '2010' about 8 dozen times (although, that wasn't nearly as bad as the circles).  If someone can recommend where to find a nice set of square cookie cutters, I would be very grateful!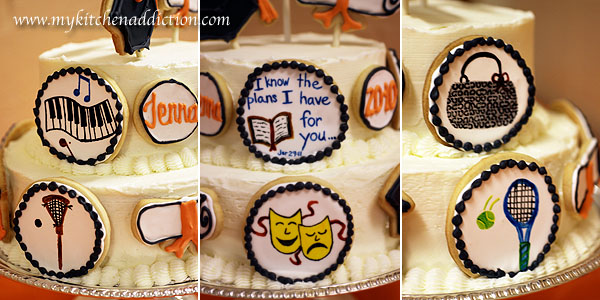 In the end, I was fairly happy with how the cake turned out.  More importantly, everyone at the party loved the cake (including the grad and her mom, which made me happy!).
If you want to see some more photos of the cake/cookies/cupcakes (plus larger versions of the photos in this post), you can find them over on my Flickr page… And no, I am still not caught up with Project 365!