It's already June… Can you believe it? That means that it's about time that I wrap up the first month of the Kitchen Bootcamp challenge! Because of the holiday on Monday, I decided to extend the challenge a bit to give everyone who was interested a chance to participate. So, I will be posting my wrap-up post tomorrow (in place of my Friday Favorites) with links to all of the other great sauce recipes, videos, and blog posts that have been submitted for the challenge!
I started out the challenge with a simple tomato sauce… I knew that was one that I could do easily while I got familiar with making videos. I think the bigger challenge for my first Kitchen Bootcamp post was really the video and not the recipe. So, I decided to do a second post this month taking on another kind of sauce – white sauce.  I have made my share of white sauces before, but I have also done plenty of things wrong, so I spent a bit of time reading The Professional Chef to absorb some knowledge. After reading, I decided to make a classic bechamel sauce – a milk based sauce that is thickened with butter and flour.
To give the sauce some extra flavor, I also added in some garlic and gorgonzola cheese. I think it would be a great sauce to serve over beef, but I had some homemade spinach artichoke ravioli that I tossed in the sauce instead.  Don't worry, you will see the recipe for the homemade ravioli soon enough, but for now, here is my second Kitchen Bootcamp video and my recipe for creamy gorgonzola sauce!
Creamy Gorgonzola Sauce
1 tablespoon butter
3 cloves garlic, minced
1 tablespoon flour
1 1/2 cups milk (I used 2%)
4 ounces gorgonzola cheese (dolce or regular)
Heat a heavy bottomed pot or skillet over medium-low heat.  Melt the butter in the pan.  Add the garlic and cook for a few minutes, stirring occasionally to make sure the garlic does not burn.  Add in the flour to create a roux and cook for a few minutes until the roux is a golden color and the flour has cooked.
Gradually whisk in the milk, continuing to whisk until the sauce is smooth and has no lumps.  Bring the sauce up to a boil and then reduce the heat slightly so that the sauce simmers.  Simmer for a few minutes until the sauce has thickened. Take the pan off of the heat and gradually whisk in the gorgonzola cheese until the sauce is smooth and creamy.
I tasted my sauce and did not think it needed any additional salt, but you could season to taste at this point.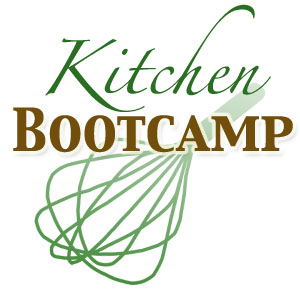 There's Still Time!
You can still submit a blot post for this month's Kitchen Bootcamp challenge! I will be posting all of the sauce posts tomorrow, but I will do my best to add any late entries throughout the weekend!