This summer, I thought it would be fun to mix things up a bit. Summer is a great time for traveling, spending time with friends, and enjoying great food, so I thought I would bring a little bit of that here to the blog. Throughout the summer I will be giving you the opportunity to travel with me to a few of my favorite blogs as I feature some great posts from a few of my foodie friends!
I am honored to have a great post written by Chris over at Mele Cotte to start off my summer mini-series. If you're not already familiar with Mele Cotte, I encourage you to go have a look around… From stunning desserts to mouth watering savory dishes, there is something for everyone. And, the lovely photos will keep you coming back for more!
Thank you Chris for helping me to kick of my summer series!
I had the honor of becoming a Daring Baker several years ago when there were less than 100 of us endeavoring through the challenges each month. While I have since resigned as a DBer for various reasons (and still miss every month), one thing I loved was being a DBer introduced me to the many fabulous bloggers old and new. One of the blogs I have thoroughly enjoyed reading and watching blossom the last couple of years has been Jen's My Kitchen Addiction. Regardless of what Jen creates, you just know she'll nail deliciousness, from the visual to the "imagined"/inferred tastes that bust through our computer screens, to the reality of flavors when recreated our own kitchens. So, having the honor of guest posting on one of my regular reads is such a treat! And, I thank Jen for the opportunity.
I have been thinking about what to write, as I wanted whatever I shared to be up to par with the quality that is My Kitchen Addiction. The first plan was to go Miso. I made the most fabulous Miso dishes while in NY recently. But, that trip was also the moment I (accidently and most sadly) dropped my camera, busting the lens. The point and shoot pictures turned out less than adequate, so I felt it necessary to go with plan B. What was plan B? Wait until I got home, with my new lens, and make something that would be equally great.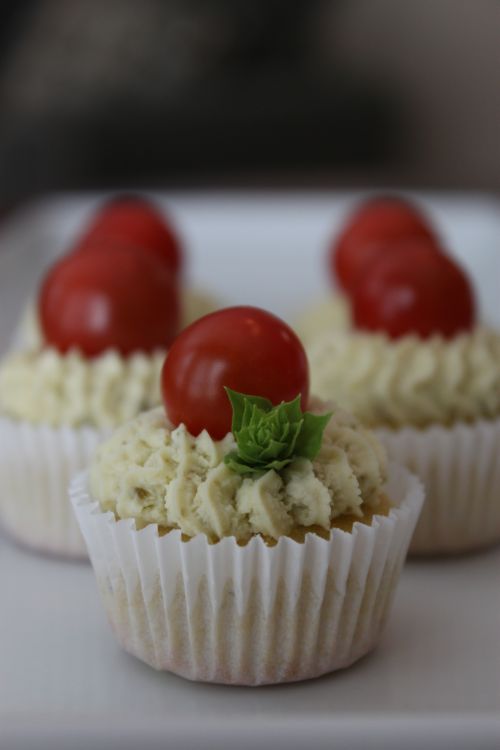 And so, I present you with Basil Cupcakes with Mascarpone Basil Frosting. Cool huh, a recipe that taps you on the shoulder with a small bit of hesitation, but leaves a hint of intrigue? If you follow Mele Cotte, you know that I have posted a lot about herbs, especially basil, lately, including pesto, basil sugar, (soon to be posted) basil & truffle oil marinaded Mahi Mahi. It seems pretty appropriate to add these cupcakes to the mix…muffin. ..cupcake muffin? I don't really know the best way to label them, as they look like a cupcake, but are not sweet like a cupcake. They are actually perfect for a brunch, or for the "I am not a dessert person" person. However I decide or you decide to call them, know they are pretty darn cool and will get a wow from any audience.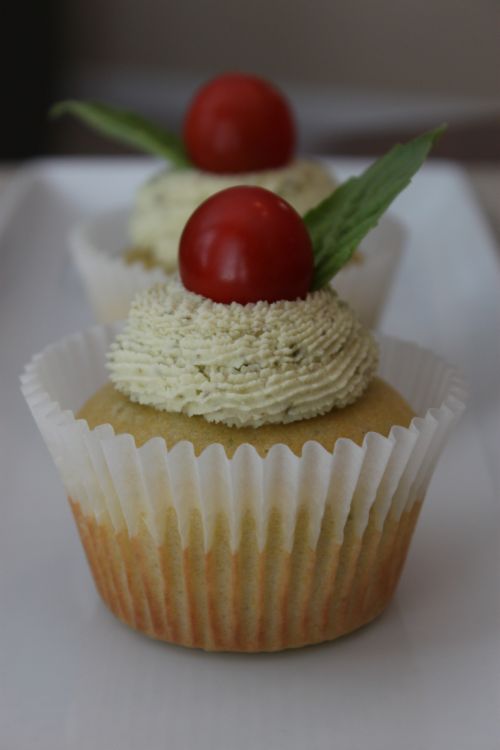 Basil Cupcakes with Mascarpone Basil Frosting
(adapted from 500 cupcakes)
Cupcake
1 cup all purpose flour
¾ cup yellow cornmeal
¼ cup basil sugar
2 tsp. baking powder
½ tsp. salt
1 cup 2% milk
2 large eggs
1 teaspoon vanilla extract
6 Tbsp. unsalted butter, melted, cooled
Frosting
1 ½ cups mascarpone cheese
½ cup basil pesto
12 grape/cherry tomatoes for garnish
Position rack in center of oven and preheat to 350°F. Place liner/cups into a 12-cupcake pan. Combine flour, cornmeal, sugar, baking powder, and salt in large bowl; whisk to blend. In another bowl, whisk milk, eggs, and vanilla in small bowl. Pour milk mixture and melted butter into flour mixture. Using rubber spatula, gently fold, not stir, liquids into flour mixture until just blended.
Fill cupcake cups ¾ with batter. Bake about 20 minutes, until an inserted toothpick comes out clean. Remove from pan and cool completely on cooling rack.
In the meantime, cream the frosting ingredients together. Add to the top of each cupcake muffin, along with a tomato.