After reading all about everyone's favorite foods for the grill, I have been feeling super inspired to head outside and do some grilling myself. Unfortunately, we've had a bit of a cold and rainy spell, and I haven't had the energy to brave the weather and cook outside. So, even though I don't have a fun new grilling recipe for you, I do have a tabbouleh salad that would make a great side dish when you are cooking on the grill.  It's perfect for your summer picnics and get togethers, too, since it's a mayo-less salad!
But, before I get to the recipe, I owe you another chance to win the lovely red grill that I am giving away!  For a second entry in my grill giveaway, you can help me spread the word on Twitter by tweeting the following:
I just entered to win a shiny new red grill from My Kitchen Addiction (@JenSchall) … You can, too! http://bit.ly/aeuHNW
I will respond to your tweet to let you know that I saw it and have given you credit for your second entry in the giveaway! Remember that you have until Monday, May 24th at 10:00pm EST to be entered in the giveaway, and the giveaway is only open to US residents (full details on the giveaway can be found here).
Stay tuned to learn about how you can earn a third entry in the giveaway as a part of this week's Friday Favorites post!
(Note – The giveaway has now ended, so any further tweets will not be included as entries in the giveaway.)
Tabbouleh with Chickpeas and Artichokes
2 cups bulgur wheat
4 cups water
1/2 pound dried chickpeas, cooked according to package directions
(or about 3 cups canned chickpeas, rinsed)
2 cucumbers, peeled and diced
1/2 red onion, diced
3 tomatoes, seeded and diced
14 ounce can artichoke hearts, drained and chopped
Zest and juice of 2 lemons
2 tablespoons extra virgin olive oil
Handful of basil leaves, chopped
Handful of fresh Italian parsley leaves, chopped
Handful of fresh cilantro leaves, chopped
Kosher salt
Freshly ground black pepper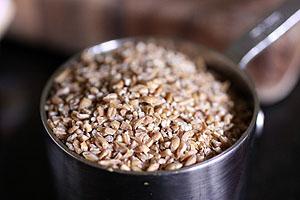 Combine the bulgur wheat and the water in a large sauce pan.  Bring to a boil and then reduce the mixture to a simmer.  Cook the bulgur for approximately 15 minutes until all of the water has been absorbed.  Set aside to cool.  Transfer to a large mixing bowl.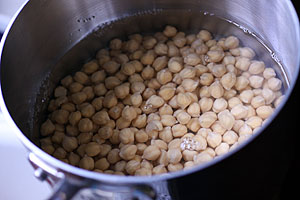 Rinse the chickpeas and transfer them to the mixing bowl with the cooled bulgur.  Add the cucumbers, red onion, tomatoes, and artichoke hearts.
In a small mixing bowl, whisk together the juice from the 2 lemons and the olive oil.  Add the dressing to the bulgur and vegetable mixture.  Add in the chopped herbs and toss all of the ingredients together.  Season to taste with salt and pepper.
Cover and refrigerate for at least one hour prior to serving.
My Kitchen Addiction Product Review Policy and Disclosure- The patio grill being given away has been provided by Sam's Club. I received this product (Sam's Club Membership) at no cost from the manufacturer (or a representative PR firm) for the purpose of testing and reviewing the product. Unless specified otherwise, I do not accept monetary compensation for reviewing or writing about products. I only review products that I have personally tested and used in my kitchen/home, and all opinions expressed are my own.