Every year, I get excited to see the first rhubarb at the farmer's market… And, I have to have it. I always buy a giant bunch with great hopes and dreams for it. Then, it sits in my fridge.
Part of my problem with rhubarb is that I LOVE it, and my husband HATES it. If you're thinking "My mother told me that hate is a very strong word," then you would be correct. He really hates it. Last year I made a strawberry rhubarb cobbler (trying to disguise the rhubarb in something he would like) and he picked all of the strawberries out and refused to try the rhubarb (and even complained that the strawberries had been contaminated by it).
So, this year I decided that the rhubarb wasn't worth the battle and I would just make something for myself with it. This is the other part of the problem… If I make a cake or cobbler with the rhubarb, I will eat the entire thing! Like I said, I love the stuff.
After it sat in the fridge for about a week, I finally decided that I had to do something with the rhubarb… After all, I couldn't let it go to waste.  So, I decided to try adding it to something else my husband refuses to eat – baked oatmeal! It was a win-win because I wasn't ruining what he would consider to be an otherwise edible food, and it was a relatively healthy dish that I could eat for breakfast and not feel too guilty! Oh yeah… It tasted pretty good, too!
Rhubarb Baked Oatmeal
1 cup milk
1/2 cup applesauce
1 egg, lightly beaten
1 teaspoon vanilla extract
2 cups rolled oats
1/2 cup brown sugar
1 teaspoon baking powder
1/4 cup golden milled flax
1 cup rhubarb, diced
Preheat the oven to 350°F.  Spray a small baking dish (about 8 by 8-inches) with cooking spray and set aside.
In a mixing bowl, combine the milk, applesauce, egg, and vanilla.  Whisk until smooth.  In a separate bowl, combine the dry ingredients – oats, brown sugar, and baking powder.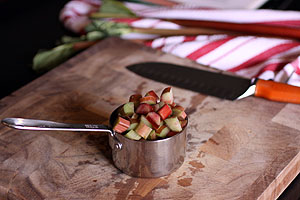 Add the dry ingredients to the wet ingredients and stir until just moistened.  Gently stir in the rhubarb.  Pour the oatmeal mixture into the prepared baking dish.
Bake for about 25 minutes, until set and golden on top.  Serve warm.