We've been making a conscious effort to eat more vegetarian meals throughout the week. In comparison to many families, we don't eat a lot of meat. But, I think we can do better. My goal is to cut back to having fish/poultry 1-2 times a week and meat no more than 1 time a week. I know that there will be weeks where that doesn't work out, but I think it's a good goal to have.
When the weather is nice, I like to be outside cooking on the grill. So, this year, I will have to challenge myself to make more veggie dishes on the grill instead of defaulting to chicken and burgers (although, I do have some plans for black bean burgers on the grill!). So, earlier this week I decided to make some grilled vegetable tacos with some yams, yellow squash, and corn I had on hand. The grilled veggies had great flavor, and topped with a chipotle sour cream, I don't think we missed the meat at all! And, we've been enjoying the leftovers in quesadillas as a tasty vegetarian lunch… This recipe is a win-win!
Grilled Vegetable Tacos with Chipotle Cream
For the Chipotle Cream:
1 cup light sour cream
1 tablespoon chipotle peppers in adobo sauce, minced
Juice from 1 lime
1 – 2 teasoons agave syrup, if needed
For the Tacos:
2 yams, peeled and cut into cubes
1 yellow squash, cut into chunks
3 ears of corn
2 tablespoons extra virgin olive oil
1 teaspoon ancho chili pepper + additional for sprinkling
1 teaspoon ground cumin
1 cup cooked black beans (or canned beans that have been rinsed)
1 tomato, seeded and diced
1 avocado, diced
Juice from 1/2 lime
Cilantro leaves
Lettuce
Corn tortillas
To make the chipotle cream, mix together the sour cream, minced chipotle, and juice from the lime in a small bowl.  Add the agave syrup, to taste, to adjust the flavor and the heat of the sauce.  Cover with plastic wrap and refrigerate while preparing the tacos.
Preheat the grill to medium heat.
For the tacos, combine the yams and squash in a large mixing bowl.  Add 1 tablespoon of olive oil, 1 teaspoon of ancho chili powder, and 1 teaspoon of ground cumin. Stir to evenly coat the vegetables with the oil and spices.  Brush the corn with the remaining tablespoon of olive oil, and sprinkle with a small amount of the ancho chili powder.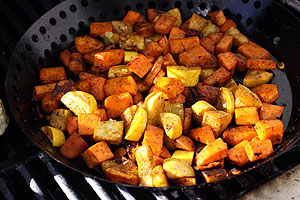 Transfer the yams and squash to a grill pan. Cook both the corn and the yams and squash over the grill until slightly charred and cooked through (about 10 – 15 minutes), stirring and rotating occasionally.
Meanwhile, combine the diced tomato, avocado, and lime juice in a small bowl.
Once the corn and vegetables are finished, cut the corn from the cobs. In a large bowl, combine the yams and squash, corn, and 1 cup of black beans for the taco filling.
Assemble the tacos by adding some of the filling to a corn tortilla, topped with the avocados and tomatoes, lettuce, cilantro leaves, and some chipotle sour cream. Enjoy!