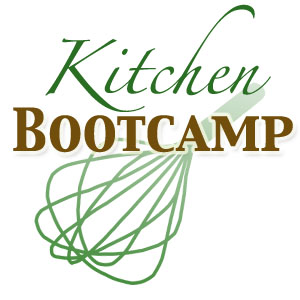 May is here, so it's time to kick off my Kitchen Bootcamp challenge! Since this if the first month, I thought it was appropriate that we start with sauces.  Whenever I think of kitchen techniques and skills, my mind immediately goes to sauces. So, grab your whisks and let's get started!
If you're following along in The Professional Chef, you'll find Sauces in Chapter Sixteen.  The book has great step by step instructions for brown sauce, white sauce, tomato sauce, hollandaise sauce, and beurre blanc, so you should not have any lack of inspiration! However, if you don't have a copy of the book and would like to join in, you're free to use another source, as well. The point of the challenge is for you to learn something new and improve your kitchen skills, so whatever works best for you is fine with me!
Since this is the first month of the challenge, let's go over all of the details…
Practice, Practice, Practice! As you know, I am a self-taught cook just as many of you are. I've found that the best way to learn new techniques in the kitchen is to give them a try and then keep on trying until I get it right!
Learn From Each Other… The Professional Chef is a great resource to help you get started on the right food… But the point of this challenge is to work together…  I have created a Facebook group for the challenge so that everyone can really work together! Stop by to share advice, tips, and get help with your questions.  We're all in this together, right?
Share What You've Learned! Once you've mastered the challenge, go ahead and brag about it! Write an original post about the challenge, and share it with us!  Please refrain from copying recipes/text directly from the book… After all, we want to know what YOU learned.  The possibilities are endless, but here are a few ideas to get you started:

Create a new recipe using one of the techniques from the challenge.
Post a video of yourself preparing a recipe or demonstrating a technique.
Write a "how-to" post with pictures demonstrating a recipe or technique.
Share your successes and failures, letting us know what worked and what didn't as you attempted the challenge.

Link Up… Stop back here and submit a link to your post so that I can include it in my round up at the end of the month!
I will be posting a round up of all of your sauce posts on Monday, May 31st… Can't wait to see everyone's hard work!