I'm on a mission to stop using canned beans.  Most canned beans contain BPA, and I'm not too sure about that. While I'm not a scientist, I figure it's better to avoid it as much as possible instead of taking any chances. Cooking dry beans really isn't very difficult. Plus, it's much cheaper to use dried beans and I can control the amount of salt and other ingredients used!
Ok, so now that you know my theory on beans, I'll get off of my soap box and get to the recipe. We had a few rainy, chilly days in the last week, so I thought it would be nice to make some soup for dinner. I was also trying to avoid having to go to the grocery store, so I used some smoked sausage that I had on hand.  With a bag of black beans and some veggies, it made a filling and delicious soup with a great smokey flavor.
Smokey Black Bean Soup
1 tablespoon extra virgin olive oil
14 ounces smoked sausage, diced
1 1/2 cups onion, diced
1 1/2 cups bell pepper, diced
6 cloves garlic, minced
2 jalapeño peppers, seeded and minced
2 hot cherry peppers, seeded and minced
1 tablespoon ground cumin
1 tablespoon ancho chili powder
1 1/2 teaspoons smoked paprika
1 pound dried black beans, soaked overnight and rinsed
6 cups chicken stock
Kosher salt
Heat the olive oil in a large heavy bottomed pot over medium heat.  Add the sausage, onion, bell pepper, garlic, jalapeño, and cherry peppers.  Stir in the spices – cumin, chili powder, and smoked paprika.  Season with salt.
Add in the black beans and chicken stock.  Bring to a boil, then reduce to a simmer.  Partially cover and allow to simmer for about 1 1/2 hours, until the beans are tender.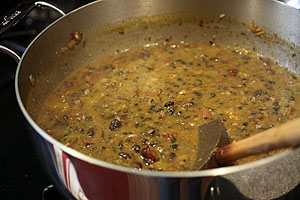 Partially blend with an immersion blender to thicken the soup.  Adjust the seasonings taste, and serve.